Our Research
Benchtop to bedside: Kirsten Palmer's research into predicting pre-eclampsia
---
Hypertensive disorders in pregnancy, such as pre-eclampsia, remain one of the leading causes of maternal mortality. While aspirin use from early pregnancy has been shown to reduce the development of early-onset pre-eclampsia, for those women who do develop pre-eclampsia, prognosis can be uncertain. Although some women remain stable while undelivered for days to weeks, others progress rapidly towards end-organ dysfunction. Can a pre-eclampsia prediction tool be developed?
Dr Kirsten Palmer is a Research Fellow in the Department of Obstetrics and Gynaecology at Monash University and Maternal-Fetal Medicine Fellow at Monash Health. From the onset of her career, she's been trying to get the full picture of what happens in pre-eclampsia at molecular and cellular levels in order to develop new treatments during pregnancies so that clinicians don't have to deliver the baby prematurely.
'Obstetrics was not a big area of research for a long period of time. Things have changed significantly in the last 20 years, but we still have a limited understanding on a lot of aspects of pregnancy' says Kirsten. 'Personally, I would find it impossible to practise obstetrics and not do research to answer the questions we have every day in the clinic.'
In 2011, Kirsten received an Arthur Wilson Memorial Scholarship from the RANZCOG Foundation to study therapeutic antibody development as a potential treatment for pre-eclampsia. In her research, she developed specific antibodies that targeted the toxin sFlt-1 e15a; thought to be responsible for the development of pre-eclampsia. 'We were trying to develop antibodies to target these proteins to see if we could neutralise them.'
While, in the end, the antibodies didn't have any neutralising properties, Kirsten and her team discovered that sFlt-1 e15a increases across normal pregnancy, peaking at term. However, variant levels are 28-fold higher in women with early-onset pre-eclampsia. Their findings opened up myriad possibilities. 'This marker enabled us to assess the impact of other therapeutics that we had been trying over the years and to explore the possibility of using this marker as a diagnostic (or even predictive) tool.'
In 2016, Kirsten was awarded the Arthur Nyulasy Prize by the University of Melbourne for 'the most significant contribution to obstetrics and gynaecology by a Medicine graduate'. Then, in 2017, she received a second RANZCOG Foundation scholarship, the Glyn White Research Fellowship, to trial a new test that holds promise in the prediction and diagnosis of pre-eclampsia. If successful, this bedside diagnostic test could be used globally to improve outcomes for women and their babies.
'The study has been collecting longitudinal data of pregnant women. If the test is found to be successful, it means that a single test may allow us to diagnose preeclampsia accurately; improving outcomes and saving patients and clinicians hours of monitoring.'
Despite the struggles of juggling clinical obstetrics and undertaking research, Kirsten has managed to publish 28 research items and have 328 citations in addition to giving standard consultations. She also supervises medical and PhD students, as well as O&G trainees that want to get involved in clinical research.
'RANZCOG has put a bigger focus on research so I'm trying to identify areas of clinical need that can be the focus of short-term projects for students. In the end, for me, it all started with inspiring mentors highlighting our knowledge gaps and encouraging me to help fill them.'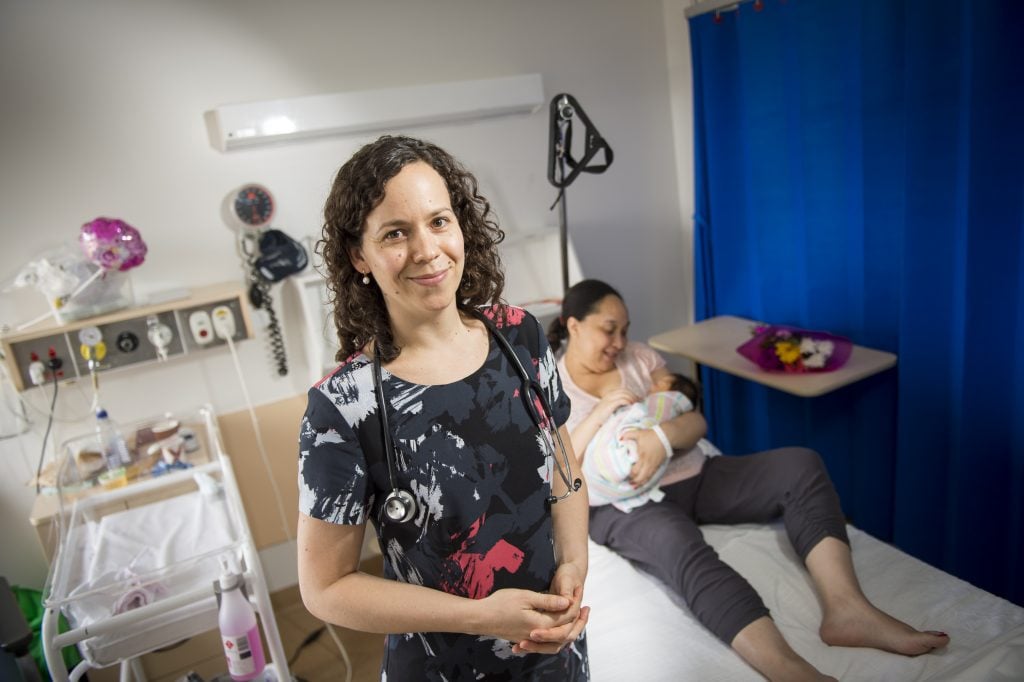 ---