Feature
An Indonesian experience
---
---
This article is 13 years old and may no longer reflect current clinical practice.
---
In October 2008, I received an invitation from Peter Riddell, an Adelaide surgeon, to join him on one of his regular clinical trips, as part of the Flinders Overseas Health Group (FOHG), to Kefamenanu, West Timor, in Eastern Indonesia.
Kefamenanu
Despite my ignorance about Indonesia, and especially about this eastern part, my 'yes' to Peter was instant and heartfelt, as this felt like something I'd always wanted to do.
Actually getting to 'Kefa' was an adventure in itself, with a flight from Darwin to Dili, then six hours being lifted off the seat by deafening 'duff-duff' music in the bus to the Indonesian border. We were met at the border by a deputation from Kefa, including Sister Yacinta, a Catholic nun, a marvellous larger-than-life character, 'minder', interpreter, pastoral carer, sometimes giver of medical advice and the impetus behind our efforts.
Kefa is a medium-sized town in the centre of the island of Timor, closer to Darwin than to Djakarta, 97 per cent Catholic, and certainly a world away from Bali, tourists, terrorists and the rest of my preconceptions about Indonesia.
What I found when I arrived was an ordered and engaging culture, smiling children immaculately dressed for school despite there being no running water. This was no war zone nor refugee camp, and yet, particularly in the hospital, the poverty and lack of facilities were obvious and disturbing. The hospital was in some ways how hospitals in Australia might have been decades ago. The 'laboratorium' could do blood counts and malaria smears only, and medical imaging consisted of simple 'ronsens', that is, plain x-rays, and a small portable ultrasound machine.
The ward round on day one in Kefa was like stepping into a 'live-in-colour' version of my old Hamilton Bailey's Textbook of Surgery, with incredible, exotic and advanced pathology, but with it all a stoical, even humorous, acceptance. I was most moved by the children's ward, where these gorgeous children giggled and smiled despite awful afflictions that are basically unheard of in white Australia.
Eventually, the ward round took us to the maternity unit, with cement floors and discoloured, white tiled walls. The labour ward consisted of two narrow beds with no linen, separated by a flimsy curtain. A defunct cardiotocography (CTG) machine sat gathering dust in one corner.
Birth in Kefa is a pretty low-key event. The same simple acceptance of pain and suffering seems to apply to childbirth…a quiet groaning process with minimal analgesia and the ever-present risk of life-threatening complications.
My first patient in the maternity unit was introduced as being 35 weeks in her fourth pregnancy, contracting and bleeding. Using the little old portable ultrasound machine, I was able to diagnose a grade four placenta praevia. The big decision here was whether to do the caesarean that afternoon with the one bag of blood available, or to wait for the possibility that tomorrow a willing relative might be found to supply us with one more! Fortunately, the operation was uneventful and a tubal ligation was done at the same time.
Because of the input from FOHG over the last 15 years, the caesareans I did in Kefa were with Vicryl sutures, under an epidural administered by skilled local nurse anaesthetists, guided by an Australian anaesthetist. When I worked later in Ende on the nearby island of Flores, the sutures were catgut dispensed from a container on the Mayo tray and threaded through a (large) bare needle, with ketamine as anaesthesia; a more typical Indonesian scenario.
The next patient was a primipara at 38 weeks who presented with no fetal movements and an intrauterine fetal death. The baby was delivered later that day after an induction of labour. I saw her the next day quietly grieving for the baby with other members of her family. The input from family is essential, as they bring in food and linen, and attend to basic care of the woman.
A couple of days later I was called down to a primipara who was pushing out a breech. It was a great opportunity for some 'hands-off' teaching re breech delivery.
During the visit, I also did some consultations, sometimes in three languages, seeing a wide variety of O and G cases. Among these were some sad cases of long-standing infertility, for which I was able to offer very little. Others just wanted the novelty of a pregnancy ultrasound. One woman had a complete proccidentia and was booked for surgery a couple of days later.
People were effusively grateful for whatever we were able to offer, despite sometimes waiting more than a day for the consult… yet another stark contrast to some of my Canberra clientele!
On the ward were several cachectic young women with abdominal masses. In this setting – no CT scanner, no friendly gynae-oncologist – the main decision is whether there may be some benefit in a laparotomy, or to let them die without the added trauma of an operation. One of these women, aged 26, died on the four-bed ward surrounded by her family, and by the families of the other three patients. Death, sadly, is a more common and obvious event than in our environment in Australia. Again, while no less tragic, there seems to be an acceptance of suffering and death as a part of life.
One 14-year-old girl had pain and a complex mass on the ultrasound, found at laparotomy to be endometriosis of the fallopian tube.
My week in Kefa was one of the most memorable of my life and fortunately, the opportunity to go back to Indonesia came up very soon afterwards.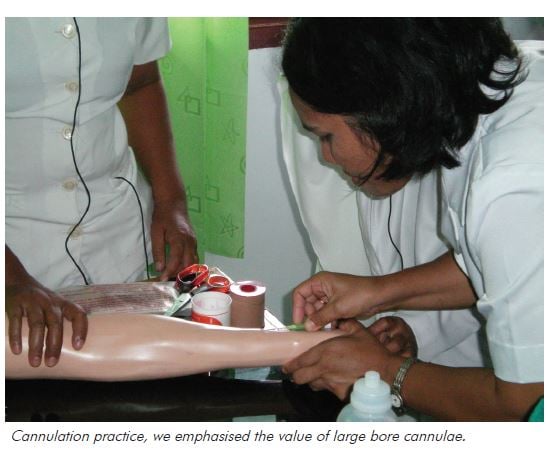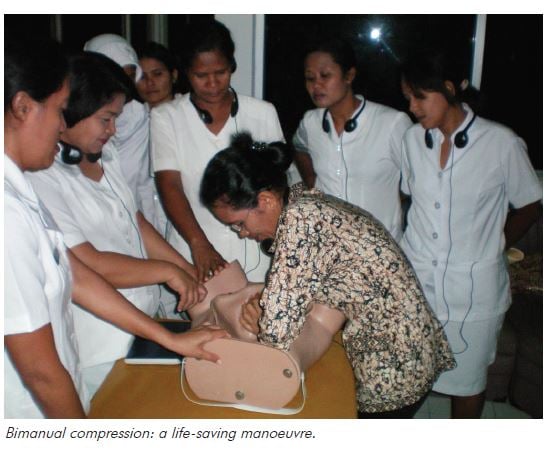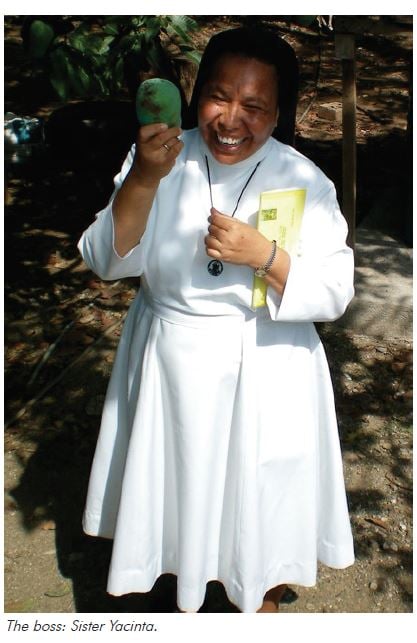 Ende
The FOGH had obtained a grant from AusAID to deliver teaching to midwives in the town of Ende, on the nearby island of Flores. This was part of an overall effort to reduce maternal mortality in eastern Indonesia, one of the United Nation's Millenium Development Goals. As a result, I was able to slot in with this program and had five more week-long trips during 2009.
It's an incredible fact that, worldwide, 500,000 women die each year in childbirth – one a minute – many because of a lack of basic facilities. Imagine if every year a tsunami or other natural disaster killed this many otherwise healthy people! This has recently been recognised by the United Nations as a human rights issue.
Maternal mortality in Eastern Indonesia is officially about 450/100,000 (Australia 9/100,000), but is probably much higher due to under-reporting. One of the identified problems is lack of skilled support at many births. The midwives have three years of training and many are then sent to outlying health centres, often many hours from Ende, and even in the base hospital, facilities are rudimentary.
Our program comprised of two days of 'teach-the-teacher' training to four selected local clinical leaders, delivered by academics from the clinical training school at Flinders University, followed by three days of 'hands-on' training to 20 practising midwives. One of the gratifying aspects of the program was the alacrity with which these four local leaders (three midwives and one doctor) took up the training and were able to pass it on to the other midwives with skill and sympathy.
The topics covered included management of postpartum haemorrhage (the cause of 40 per cent of maternal mortality), neonatal resuscitation, adult resuscitation and management of eclampsia, shoulder dystocia, breech and twin delivery. We tried to keep the theory as brief as possible so as to concentrate on practical skills and were able to take over simple PowerPoint presentations, translated by two Indonesian doctors living in Canberra.
A great deal of money and effort is being invested in improving maternal health in this region. My feeling was that in applying this very 'hands-on' approach, we were making use, in this resource-poor environment, of the one resource that is available: intelligent, enthusiastic people, and empowering them to make a difference, despite the lack of facilities.
One senior midwife said that, in over 20 years, it was the best training she had received.
The project had a bit of a 'life of its own' and many people were keen to help. Our neonatologist, for example, was able to give me 20 used neonatal resuscitation bags. Some of the midwives had been delivering babies in health centres with no resuscitation equipment at all.
We are planning to distill this Ende experience into a module of practical emergency training for midwives, which would be applicable throughout Indonesia. Again, we would hope to include a 'train-the-trainer' element to make this a sustainable and self-replicating project.
Despite, or perhaps because of, the obstacles of language and culture, the poverty and the awful lack of infrastructure, my time so far in Indonesia has been a marvellous and life-changing experience for me. It has deepened my sense of myself as a doctor, and the privilege that this brings, giving me unique access to another culture and the ability to reach across barriers and experience a common humanity. I feel deeply grateful to have had this opportunity and am returning to Kefa in November 2010 to do further clinical work and teaching.
---