Feature
Increasing supervised births
---
---
This article is 10 years old and may no longer reflect current clinical practice.
---
A new trial program is improving maternal outcomes for women giving birth on the remote islands in the Milne Bay province of Papua New Guinea by encouraging them to seek supervised births.
Improving on Papua New Guinea's (PNG's) dismal maternal mortality ratio (MMR) in time for the Millennium Development Goal (MDG) 2015 deadline continues to be a challenge for health authorities in a nation where village births are the most convenient option and culturally the normal practice for the majority of rural women. In 2012 only 40 per cent of women were able to achieve a facility supervised birth: the other 60 per cent gave birth at home with only a female relative to assist them. A Demographic Health Survey in 2006 calculated the PNG MMR to be 755/100 0001: this figure is second only to Afghanistan in the Asia-Pacific region.
PNG has 20 very diverse provinces at very different stages of development. Even within one province there can be diverse cultures, many different languages and a variety of landscapes from coral atolls to impenetrable jungle and mountain ranges. Although the causes of maternal deaths are basically the same in all provinces, measures taken to reduce the MMR in one province may not necessarily have the same effect in another.
Poor supervised delivery rate
Maternal mortality has been investigated by a number of studies and most recently in the islands region of Milne Bay.2 The study showed that Milne Bay women most commonly die during childbirth or shortly thereafter from haemorrhagic shock and in more than 50 per cent of cases the cause of death is postpartum haemorrhage
(PPH), secondary to a poorly contracted uterus. Retained placenta is also a common association of PPH-related deaths. It was found that most cases would have been preventable, if there had been timely and appropriate midwifery and obstetric management.2 However, because most women deliver in their village home, delay in deciding to transport the woman to a health facility when something goes wrong often proves to be fatal.
Of the 6630 births that occurred in the islands around Milne Bay in 2011, only one in four mothers were able to get a supervised delivery in a health facility.3 In the study many women were interviewed about their views on birthing: the following statements from village women from Milne Bay outer island communities exemplifies the attitude of many women living in remote locations where it is logistically difficult to get to a health facility to have a supervised birth:
Mothers see having a baby as normal and feel it's safe for mothers to deliver in the village.
Husbands look after the children while mothers deliver.
There is a problem with providing food for mother and guardian when we go to the health centre for delivery.
We just deliver in the village with help from our native herbs.
In our survey, a large number of rural women were asked why they did not make an effort to go to the health centre for supervised birth. Typical answers were:
I came into labour and then it was too difficult to walk to the health centre.
I didn't want to go too early to the health centre and then have to wait around for several days. There is no food in the health centre, and besides I do not want to be away from my family and children for too long.
I don't know my actual expected date of delivery; it's very far to walk to the health centre.
We do not have transport when we come into labour and the distance is very far to walk.
We feel ashamed to go to the health centre for delivery when we do not have all the clothes and other things for the baby.
It costs money to deliver at the health centre (usually about K10) and we are poor people.
I feel shy to expose myself to a male nurse.
Some of us find it difficult to communicate with health staff who do not speak our local language.
We fear being scolded by nurses because we have not used family planning or because our clothes are not in good condition.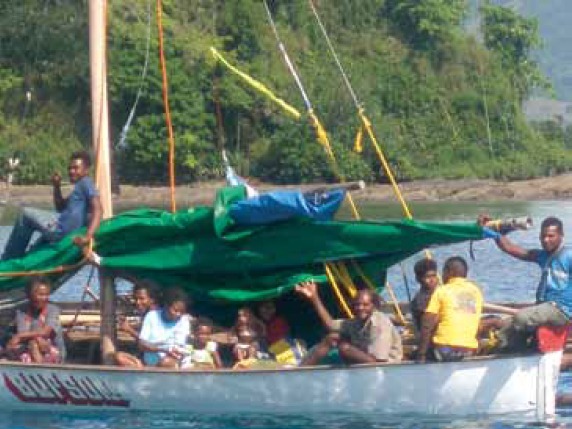 For multiparas when the first pregnancy outcome was a successful village delivery, it is often doubly difficult to convince women to undertake a three- or four-hour walk to the health centre for a supervised birth, particularly when there are fees to be paid and the health staff are not welcoming.
In response to findings in the study and the mothers' concerns as outlined above, the Hands Of Rescue Foundation in Milne Bay initiated a baby bundle gift program at three selected health centres in June 2012. The centres selected were in those areas where significant numbers of maternal deaths occur each year.
The aim of the trial was to increase the number of supervised deliveries at the selected centres by giving a baby bundle gift to all mothers who chose a supervised delivery there. At the same time, a Hands of Rescue team visited the health centre to provide essential and obstetric and newborn care training for the staff.
The Milne Bay Province is an island province with 160 named islands, scattered over 250 000km2 of ocean. The population of 209 054 is distributed between the PNG mainland and surrounding islands.4 The vast majority of the people travel on foot or by traditional sailing canoe, dinghy or locally built wooden boats. People are subsistence farmers and fishermen/fisherwomen and are extremely cash poor. The three health centres where the trial is currently running are Sehulea, Bolu Bolu and Nimoa.
The Baby Bundle Gift Program has several components and consists of a mother and baby gift, staff incentive, obstetric emergency training for staff and the supply of an obstetric emergency kit for the health centre. Participating health centres also benefit from the installation of a water supply and solar lighting to the labour ward where required and construction of a bush material waiting house for expectant mothers to come and stay to await the onset of labour. We have also provided an emergency food fund for mothers as part of the support package. The trial is being carried out by the Hands of Rescue Foundation, based in Alotau under a Memorandum of Understanding with the Milne Bay Provincial Health Authority.
The baby bundle gift
The baby bundle gift component of the program consists of 18 items, catering for both mother and baby's needs at the time of delivery. The bundles were supplied to Sehulea, Bolu Bolu and Nimoa health centres in June 2012 and will continue until June 2014, when the program will be evaluated. Each bundle is valued at K60 (AU$25) and contains:
a plastic baby bath;
a full-size bath towel;
six cotton nappies;
a cotton sarong for the mother;
baby oil (100ml);
a full-size cotton bed sheet;
baby powder;
underwear for the mother;
underwear for the baby;
six washable sanitary pads;
a towel for wrapping baby;
female and male condoms;
a singlet for the baby;
a treated mosquito net;
five safety pins;
laundry soap;
hand soap; and
a roll of toilet paper.
Items are packed into the plastic baby bath in Alotau and I deliver them in person to the health centres. Records are kept of the names and addresses of mothers receiving the bundle and balanced against the number of deliveries recorded in the health centre delivery registers.
Finance for this program comes from Send Hope Not Flowers, based in Canberra, Australia, and Hands of Rescue in Alotau, PNG.
Every six months, each participating health centre receives K250 in cash to be used as emergency food money for mothers awaiting delivery. Moreover, to encourage health staff to improve their bedside manner and accept the expected increased workload that this program will generate, a K20 (AU$8) bonus is paid for every delivery over and above the case load of the previous year. This bonus is shared equally among all staff of the health facility.
To up-skill staff in the management of obstetric and newborn complications, emergency obstetric care (EmONC) training is carried out in the health centre at the start of the trial and at subsequent follow-up visits during the trial. The training focuses on recognition and management of shock, PPH and manual removal of retained placenta, the use of misoprostol to reduce haemorrhage from miscarriage and PPH, vacuum extraction to assist delivery, the use of magnesium sulphate in severe pre-eclampsia and eclampsia, and the management of postpartum sepsis. It is expected that each health centre will receive five sessions in EmONC training in the two-year period of the program.
Sehulea Health Cente has had a new bush material waiting house constructed and a well to collect water suitable for washing and bathing. Water was also connected to the labour ward hand basin. Waiting houses have also been constructed at the Nimoa and Bolu Bolu health centres.
Results
Sehulea Health Centre services a population of 6310. The furthermost antenatal clinic point is a four- or five-hour walk inland into the mountainous region where the majority of the population live. Sehulea health centre had 58 supervised deliveries in the ten-month period prior to the beginning of the support program. In the ten months since introducing the baby bundles, in June 2012, the health centre had supervised 141 deliveries. This represents a 143 per cent increase in supervised deliveries. Mothers are coming from a wide area to deliver in the health centre and as far as two-days' walk from Sehulea. Since the program commenced, the staff have been paid a K1420 bonus for the extra 41 deliveries.
There have been 15 recorded complications, including five retained placentas and four PPHs since the trial commenced. In the previous year, there were eight retained placentas and three PPHs. There has been one recorded maternal death in Sehulea since the program commenced. This was a woman with an ectopic pregnancy who exsanguinated while waiting for a medivac to the provincial hospital at Alotau. In previous years, Sehulea has typically had three or four maternal deaths per year. The number of new babies who presented for vaccinations at the well-baby clinic during the same period was 176, indicating that at least 35 mothers delivered in the village since the trial commenced.
Bolu Bolu Health Centre services a population of 7671. In the nine-month period before the trial commenced, the health centre supervised 87 deliveries. In the nine-month period since entering the program there have been 123 deliveries: this represents a 71 per cent increase in supervised births. In this area there have been 203 attendances for newborn vaccinations, this seems to indicate that at least 80 women delivered in the village. Bolu Bolu recorded 21 cases of PPH and two cases of retained placenta in the first nine months of the trial.
Nimoa Health Centre provides for a population of 2372. It had 99 supervised deliveries in the nine-month period before the commencement of the trial. Since introducing the baby bundles, the health centre has had 186 deliveries in just over nine months. This represents a 55 per cent increase in supervised deliveries. The staff was paid a total of K1320 since the program commenced for the extra 66 deliveries so far in the trial. It is estimated that 40 women have delivered in the village. There have been no maternal deaths in the health centre and one maternal death has been recorded in the village, which has yet to be investigated. A summary of results since introducing the baby bundle gift component is shown in Table 1.
| | | | | | | | |
| --- | --- | --- | --- | --- | --- | --- | --- |
| Health centre | Interval in months | Supervised deliveries 2011-12 | Supervised deliveries 2011-12 | Increase | PPH, retained placenta | Estimated village births | Maternal mortality |
| Sehulea | 10 | 58 | 141 | 83 (143%) | 4, 5 | 35 | 1 |
| Bolu Bolu | 9 | 87 | 123 | 36 (41%) | 21, 2 | 80 | 0 |
| Nimoa | 10 | 120 | 186 | 66 (55%) | 11, 3 | 40 | 1 |
Discussion
The trial is in its early days, but it already shows mothers approve of the new incentives offered by their health centre. The baby bundle program addresses the concerns previously voiced by rural women throughout Milne Bay. Despite long distances to travel, women are showing they will make the effort and choose a supervised delivery in their local health centre when there is client-focused care and they are offered a small incentive to do so. Raising awareness about the program was initially carried out by health staff during regular antenatal clinics. This soon became unnecessary as new mothers arriving back in their village with the baby bath and gifts quickly spread the news to other mothers in their area.
Sehulea stands out as having had the greatest increase in supervised births since the beginning of the trial. This may be because the health centre is accessible on foot for most mothers in the surrounding villages. For other health centres it is necessary for mothers to use sea transport (usually a canoe) piloted by their husband. Bolu Bolu is accessible on foot to 70 per cent of the population while the rest must travel by sailing canoe to reach the health centre. Nimoa Health Centre is situated on a small island in the middle of the Louisiade Archipelago and the majority of mothers must travel considerable distances by sailing canoe to reach it. Husbands are relied on for this task and wives often complain that the men are too lazy to take their wives to the health centre. Consequently, we have added an incentive for men in the second generation baby bundles planned for the next phase of the study. Family planning will also be included in the next round of incentive baby bundles.
However, Sister Sera at Nimoa recently reported: 'husbands are very happy because it assists them with the little money they can earn to support the mother and baby.' She also asked those women who delivered in the village did so despite the incentive offered by the Nimoa Health Centre. All the women said they wanted to come to the centre, but they had no way of getting there, because their husbands do not have a sailing canoe.
It is normal practice for the Nimoa antenatal clinic team to bring mothers back for confinement on their return from their clinic points. Nimoa has not been able to conduct clinics every month because of insufficient fuel for their outboard motor. This same problem resulted in the death of one mother in her village in 2010.2 Shortage of fuel equals no antenatal clinics and, therefore, maternal deaths, to put it simply.
Women were encouraged to treat the baby bundle gift as a gift from the health centre itself. There is no self-promotion by the program's sponsors on the baby bundles. Staff had the added satisfaction of giving the gift and mothers were happy to receive thus improving the staff-patient relationship.
There has been no increase in the number of complications arising as a result of the increase in supervised births. Staff members have been encouraged to adopted a new policy of placing an intravenous cannula in every mother admitted to the labour ward. An attitude of 'every mother may suffer a PPH until proven otherwise' is taught at EmONC training. Supplies of essential drugs, such as oxytocin, ergometrine and misoprostol, are available in the health centres.
The baby bundle program could easily be criticised as being unsustainable and because it may encourage more pregnancies. On the other hand, it is the responsibility of a caring government to assist women and families to have safe reproductive health and the Milne Bay provincial health authority has shown every effort to support the program. It is hoped the program will become part of the healthcare system in the long run. As mentioned above, family planning input will be added to the program in the near future.
How long does it take to change the culture of village births to one where a supervised delivery is considered the normal practice? The answer to that question still remains to be seen. The baby bundle program should continue for at least two years then it could be downsized but continue to include incentives for mothers and husbands to accept family planning for a further two years. The cost of a baby bundle gift for every mother of a baby born in a health centre in the remote islands of Milne Bay province in a year is less than the cost of a new vehicle.
With 2015 fast approaching, the MDG 5 target of reducing maternal mortality by two-thirds in PNG is unachievable at present. Encouraging mothers to have a supervised delivery and convincing men and women to accept family planning are two strategies that will contribute towards achieving the MDG 5 target.
Encouraging mothers to have a supervised delivery at the same time as up-skilling staff and encouraging staff to adopt mother-friendly attitudes are the objectives behind this trial.
Early results are encouraging and show that mothers will respond and change traditional birthing practices when conditions and attitudes at their local health centre are equal to or better than those in their village.
Acknowledgements
I would like to sincerely thank Send Hope Not Flowers for its generous contribution towards the purchase of baby bundles for this trial and to Profs Steve Robson (Canberra) and Glen Mola (School of Medicine Port Moresby) for their material support and advice in making this program possible. I would also like to acknowledge the generous support of the Volaris, Neville and Silcox families of Alotau and the Milne Bay Province Provincial Health Authority's involvement in the trial.
References
Molar, G. Maternal mortality in Papua New Guinea. O&G Magazine, Vol 11, No 1 Autumn 2009.
Kirby, Barry (2010). Too Far to Travel: Maternal Mortality in Milne Bay Province; Beyond the Numbers, November 23 (unpublished data).
Health Information Annual Feedback 2011; Milne Bay Provincial Health Authority; Office of Planning & Coordination. Division of Health, Alotau MBP.
NHIS Annual Feedback 2009; Milne Bay Administration; Division of Health, Alotau, Milne Bay Province.
---