Women's Health -> Legal Update
The leg-up
---
---
This article is 6 years old and may no longer reflect current clinical practice.
---
Your regular legal update to keep you informed on current medicolegal issues in the practice of obstetrics and gynaecology

Book Review
Scholarly Misconduct
Law, Regulation, and Practice
Ian Freckelton QC
Scholarship lays the foundation for a successful career in obstetrics and gynaecology. It commences as a trainee, with the countless hours sifting through mountains of knowledge and personal opinion to search for 'the truth' at the pinnacle. It advances through to the difficult task of performing research oneself, with the push and pressure of publication for career advancement. Finally, as a consultant, the respect for scholarship behoves one to keep knowledge and teaching current. The reliance on our academic cousins to keep us up to date makes the book, 'Scholarly Misconduct', highly relevant to academics and clinicians alike. Ian Freckleton is a Queen's Counsel and one of Australia's foremost medicolegal minds. His new, monumental book is kindly compartmentalised for an enjoyable reading-romp through the world of 'sex, drugs, murder, corruption, fraud, nepotism, hoaxes, denigration, defamation and a host of other crimes and misdemeanours'.
Disciplinary proceedings contain rich material to pique the interest of obstetricians and gynaecologists. Cases presented include the 1995 episode of the British obstetrician Dr Malcolm Pearce who claimed to have implanted a five-week tubal ectopic pregnancy into the endometrial cavity resulting in the birth of a healthy neonate, publishing his innovative technique in the British Journal of Obstetrics and Gynaecology. The patient could not be found. This was because the case study was entirely false.
Dr Pearce published later in the same journal, fabricating a double-blind randomised controlled trial involving 191 women at high risk for miscarriage with the arms involving either HCG or placebo. His coauthor, Prof Geoffrey Chamberlain, the President of the Royal College of Obstetricians and editor of the College's journal, was embroiled in the scandal, admitting that his involvement was a 'gift authorship' and he had little involvement in the work.
Dr William McBride, was one of Australia's most awarded scholars, being internationally recognised for his discovery of the causative association between the morning sickness drug, thalidomide, and birth defects. He was Man of the Year and Australian of the Year in 1962, Commander of the Order of the British Empire in 1969, Father of the Year in 1972 and Officer of the Order of Australia in 1977. However, he had a spectacular fall from grace in 1993 when the Medical Tribunal of New South Wales removed him from the Medical Register due to fraudulent research on his hypothesis that another morning sickness drug, Debendox, was teratogenic. His actions were summarised by the Tribunal as to 'indicate a serious degree of intellectual and moral dishonesty'. This epic legal disciplinary case had multiple tangents including the fiery confrontation with a fellow researcher who exposed the scientific fraud, a public attack on the medical journalist Norman Swan and multiple submissions for readmission to the Medical Register, successful in conclusion to enable him to work in American Samoa as an O&G specialist. Freckleton wryly notes, 'Unfortunately, the effectiveness of the consequences as a deterrent to others minded to behave similarly is open to serious doubt.'
'Scholarly Misconduct' will take you out of your comfort zone, exposing the evils of research misconduct, conflicts of interest, plagiarism, dishonesty in employment, denigration, disputation and malicious harassment of colleagues, sexual misconduct and whistleblowing. The author's attempts to move past the blame on an individual's personal defects to reveal the systemic causes for cultures of misconduct are particularly enlightening and especially relevant to each of us.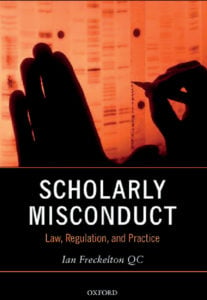 Finally though, everyone loves a good story, and this book is a cracker of a read, full of forensic sagas with egotistical characters, dark plots and deceit.
'Freebirthing' Coronial Concerns
Inquest into the death of NA
NA was an infant born breech without medical or maternity assistance (in a so-called 'freebirth') who died within days of birth from hypoxic ischaemic encephalopathy. Pertinent findings for our Fellows from the Coroner's court can be summarised as:
1. There is a continued responsibility on all medical practitioners to attempt to discuss risks in pregnancy when any new information comes to light, despite patients already being aware of the risks.
A general practitioner made multiple efforts to encourage the pregnant woman and her partner to attend regularly for antenatal care and cancel her homebirth. This included escalating concerns related to her Hepatitis C-positive status, iron-deficiency anaemia and transverse lie complicating the pregnancy. He also made a referral to the governmental Child Wellbeing Unit when she became uncontactable. The pregnant woman and her partner remained committed to a homebirth:
In effect doctor and patient were operating with completely different world views and meaningful communication about the risks associated with the planned homebirth was difficult.
However, a covering general practitioner was singled out for criticism by the Coroner for not trying to seek further contact with the couple following an ultrasound at 38 weeks (8 weeks after the original referral was made) confirming the already known fact of the transverse lie:
It is extremely unfortunate that once the final scan had been done, they were not warned again in the firmest terms, either by the GP practice they had attended or by a worker from Community Services. It is now impossible to know if F would have changed her mind had that extra warning taken place or if she and her husband would have chosen to proceed with their original plans regardless.
2. A major recommendation made by the Coroner was 'that the Royal Australian College of General Practitioners consider developing policy guidelines to assist and support its members in advising patients in relation to requests for nonhospital births. Consideration could be given to the 'National Midwifery Guidelines for Consultation and Referral'. The Coroner queried whether, had the pregnant woman been referred to a homebirthing option early on:
…before all the risks became clear, she may have benefited from contact with knowledgeable midwives and had the chance to have been advised of the risks she faced in the context of a stronger therapeutic relationship.
The Coroner made it clear that, nevertheless, all evidence pointed to a hospital birth as the safest option in this tragic scenario.
Sickly Sweet
Australian Product Liability Reporter, 2016/27
For sugar, the times they are a changing
Mark Leersnyder, Dora Banyasz and Peter O'Donahoo
Obesity is one of the greatest causes of morbidity and mortality in the developed world, and obstetrics is no exception. Mark Leersnyder et al published an interesting article recently 'For sugar, the times they are a changing' in the Australian Product Liability Reporter. The article makes mention of the Global Report on Diabetes and discusses the regulatory measures imposed around the world to minimise sugar consumption. According to the Global Report on Diabetes, consumption of sugar and sugary drinks is a leading cause of excess body fat. In the USA, one of Michelle Obama's legacies will be the changes to the Nutrition Facts label, requiring the weight and percentage daily value for added sugars to be clearly on the label. In addition, for drinks that contain between one and two servings (for example, 590ml soft drink), the calories will now be marked for the entire container, as people usually consume them in one sitting. Nations such as the UK and Mexico have moved to impose a tax on sugary drinks. In Mexico, this policy has led to a 12 per cent reduction in the purchase of these beverages. Similar to smoking, there will always be a contingent of the population who will tolerate the increased cost for the psychological benefit of this legalised drug, for some would argue that sugar is an addiction. Perhaps poor nutritional knowledge is partially to blame. Many times in gestational diabetes clinic, the question arises as to whether juice is allowed; juice is the culprit that masquerades as a health-food item, all the while stacking on the calories.
Leersnyder et al make reference to some interesting numbers. Obesity costs Australia $3.8bn in direct costs. The School of Public Health at UQ estimates that a tax of 20 per cent on sugar beverages could save 1600 lives and raise $400m for new health initiatives.
Australia launched the voluntary 'Health Star Rating' system in June 2014, which will be in place for five years, with a review after two years. Aside from the rating system, Australian regulation has been disappointingly silent. As the article notes, there are laws in place to restrict advertising of unhealthy foods at the time of children's television programs; however, this is the extent of it. Some campaigners are calling for age-based sale restrictions of unhealthy food and beverage, similar to alcohol. Certainly, school canteens are now restricted and employ the 'traffic light' system to indicate the healthiness of available food. Many a parent has snuck into the pantry to consume an unhealthy treat away from the eyes of a demanding toddler who might want some. And perhaps therein lies the most powerful influence – the dietary intake of parents and the example that is then set.
As health professionals, it is difficult to have the obesity discussion with our patients even though it is often the root of all evil with regard to their other health issues. There are significant waiting lists for bariatric surgery, (if available at all) often up to two years or more. Clearly, any attempts that focus on treatment alone will be sorely inadequate; prevention is the key. Regulation is only one part of the puzzle, but it does raise awareness of the significant health issues caused by excess sugar intake.
---