Women's Health -> Legal Update
The leg-up
---
---
This article is 6 years old and may no longer reflect current clinical practice.
---
Your regular legal update to keep you informed on current medicolegal issues in the practice of obstetrics and gynaecology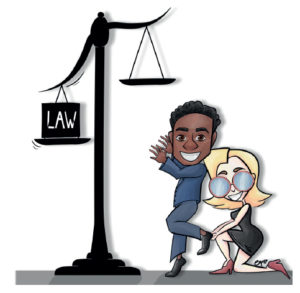 Adolescent sexting: inside and outside of romantic relationships
The production and sharing of pornography has a long history, since humans first learned how to capture and distribute images. The development of technology, with ready access to mobile phones and the internet, has led to the phenomenon of sexting. Adolescent girls remain particularly vulnerable to the lure and negative effects of sexting.
The law in Australia has recently struggled to balance the use of sexting by teenagers in romantic relationships with the protection of minors from predatory adults. Essentially, there are Commonwealth and State criminal laws that can apply to sexting, resulting in penalties for intentionally sending intimate images, child pornography offences and listing on a Sex Offender Register. Recent legal changes were passed (Sex Offenders Registration Amendment [Miscellaneous] Bill 2017) to allow appeals for removal of sex offenders' registers for 18- and 19-year-olds involved in sexting in 'consensual relationships' with teenagers a few years their junior.
Ouytsel et al from Belgium studied adolescent engagement in sexting, within and outside of a 'romantic relationship'. They acknowledge the research exploring the negative aspects of sexting, including the coercion of girls and reputational damage from online forwarding of sexual images. Although sexting is often viewed as deviant behaviour, they assert that 'sexting can play a role in adolescent development as it can help young people to explore their sexuality and develop their sexual identity'. As a novel approach, they were keen to view the possible criminality of sexting behaviour in light of the motives for sexting depending on the relationship between the sender and respondent.
Social learning theory attempts to explain that criminal or deviant behaviour is learned through exposure and imitation of role models, such as parents and peers. Adolescents' sexting behaviour is highly influenced by peer group approval of sexting and approval of sexual activity by family and friends. Peer group attitudes are thought to be more determinant than the effect of an adolescent's own attitudes towards sexting. Differential reinforcement where rewards outweigh punishment carries import if one views adolescent sexting as deviant behaviour. The thrill of the activity and desire for popularity is weighed up against the perceived risk from shaming and the punishment for being caught.
Senior high school students with no previous formal education on sexting prevention or awareness were anonymously surveyed about their sexting behaviour within and outside of romantic relationships. Sexting in romantic relationships was associated with self-perceived definitions of acceptable behaviour, influenced to some extent by peer approval. Sexting outside of romantic relationships involved a high degree of thrill seeking. The perceived opinions of peers, the perceived opinions of parents, the perceived positive social reinforcement and learning of engagement in sexting behaviour by peers or through the media do not influence one's chances to engage in sexting. The authors conclude, the social learning theory, developed to explain deviant or criminal behaviour appears best suited to the sexting outside of a romantic relationship, the relatively more risky behaviour of the two sexting behaviours studied.
Future studies and legislation will need to investigate if the previously found correlations between general measures of sexting and different types of risk behaviours (for example, sexual risk behaviour and substance abuse) and health outcomes (for example, feeling sad or hopeless and suicidal thoughts) would hold if one would take into account whether they engaged in sexting within or outside of a romantic relationship.
Further reading
Ouytsel JV, Ponnet K, Walrave M, d'Haenens L. Adolescent sexting from a social learning perspective. Telematics and Informatics. 2017;34:287-98.
Clinical guidelines: damned if you do, damned if you don't
The hallmark of evidence-based practice has been the development of clinical guidelines and unit policies. Clinicians who have questioned the legitimacy of their institution's guidelines have taken some small solace in the belief that adherence to a protocol conferred some protection against medical negligence claims. Until now.
In Gould v South Western Sydney Local Health District [2017] NSWDC 67, the District Court of NSW examined the care provided to an eight-year-old boy with a crush finger injury following a fall on wet concrete. In August of 2011, the boy was transferred from Campbelltown Hospital to Liverpool Hospital for the management of a crush injury to the left thumb and another injury to the left third digit. Following assessment, surgical washout, wound exploration and repair were arranged and booked for the same day.
Prophylactic antibiotics were prescribed in accordance with hospital policy and the Therapeutic Guideline: Antibiotics. The recommended antibiotic was intravenous flucloxacillin. Expert witness for the case, A/Prof Barrie Gatus (infectious diseases physician) also testified that this was the most appropriate treatment in the circumstances, as most infections were due to Staphylococcus aureus. He further noted the risk of ototoxicity with gentamycin administration and concluded that it would not be appropriate for initial treatment in this case.
Meanwhile, A/Prof John Raftos (emergency physician) stated that gentamycin should have been prescribed to the patient in addition to flucloxacillin because of the contaminated nature of the injury.
In awarding $240,930.10 to the plaintiff, His Honour Judge Levy SC held that the hospital had breached its duty of care to the patient and that gentamycin should have been administered. His Honour made note that A/Prof Gatus' view (and the guidelines) were constructed with an 'emphasis upon… antibiotic stewardship' rather than care of the individual patient.
As an aside, it is also interesting to note that the patient was scheduled for surgery later that night, but was delayed from accessing theatre due to other emergency cases. He underwent surgery the following morning and His Honour held that the patient should have been operated upon within six hours of presentation. The hospital could have demonstrated limited public hospital resources and mounted a defence pursuant to Part 5 of the Civil Liability Act 2002 (NSW) (CLA). They chose not to.
The case provides our readership with a stark reminder that courts seem to favour expert peer opinion over clinical guideline and, hence, the latter should be used to guide practice rather than mandate it.
Special medical treatment for adolescents: stringent tests for consent
Guardianship Board applications by carers and doctors of disabled adolescent girls for consent to special medical treatment can illustrate the dilemma Tribunals face in making these emotionally charged decisions. The catchphrase for the legal test is 'whether the treatment is necessary to save the patient's life or to prevent serious damage to the patient's health'. A NSW case illustrates the stringent requirements in obtaining consent for hysterectomies in disabled adolescents in Australia.
In the first Tribunal decision, NXM [2014] NSWCATGD 52, the application by parents for a hysterectomy with ovarian conservation as treatment for a severely disabled 18 year old with menorrhagia was dismissed.
Miss NXM had a severe intellectual disability with autistic traits with a chromosome 17 duplication and Charcot Maries Tooth Syndrome. She was non-verbal and the Tribunal agreed that she could not consent to treatment.
Miss NXM lived with her parents who were her fulltime carers. Her menorrhagia caused her extreme distress that affected her quality of life. This included abdominal discomfort, vomiting, diarrhoea, anorexia and continual removal of clothing and sanitary pads in public, with blood soiling of clothing and bedlinen. Her double incontinence resulted in mixed soiling, with resultant risks to her hygiene. In addition, she became very anxious, which limited her participation and enjoyment in any community activities or public life. The significant issues of anaemia, infection risk and psychological distress were reported by her parents, her GP (experienced in care for the disabled), her gynaecologist and her respite carers and teachers.
Her doctors outlined the difficulty in alternative treatments:
Miss NXM required all medication in liquid form, which was not an appropriate delivery for OCP for ovarian suppression. Furthermore, OCP had increased risks for thromboembolism as she was immobile.
Miss NXM was very distressed when approached for medical examination and three-monthly injections of Depo-Provera would be strongly resisted and require forcibly holding her down to receive the injection. Additionally, there was a risk of erratic bleeding, and Depo-Provera
was not recommended due to Miss NXM's low bone density.
Use of an IUD or endometrial ablation was not supported as it required a general anaesthetic and there was no guarantee it would stop the periods. Miss NXM had already had 12 anaesthetics in her 18 years and her parents would not consent to another if it were not for a permanent solution. Miss NXM had a small uterus with a high likelihood of rejection of an IUD and any spotting of menstrual blood still caused severe psychological reactions.
Her parents had gone to enormous effort to deal with the issues (including psychological attempts at desensitisation to menstrual blood), and believed that the proposed hysterectomy was an important procedure for the maintenance of Miss NXM's dignity.
The Special Representative appointed by the Tribunal for Miss NXM did not support the application and felt that a Mirena IUD should be trialled. She was not convinced that the psychological behaviours were attributed solely to menstruation.
The Tribunal concluded that it was satisfied that hysterectomy was the most appropriate treatment for stopping the periods. However, it stated that it was not convinced that her psychological issues were of such magnitude to require a treatment of 'last resort' to prevent 'serious damage' to Miss NXM's health.
A second application was made 11 months later for the same consent to special medical treatment; NXM (No 2) [2014] NSWCA TGD 53. It differed with regard to: legal representation for the parents, the Special Representative for Miss NXM was a legal practitioner who supported the application and a consultant psychiatrist and endocrinologist gave compelling evidence of the psychological and physical effects of menstruation on Miss NXM. The Tribunal accepted that Miss NXM's disabilities were such that she could not ever exercise her reproductive capacity and consent was given for the hysterectomy.
---