Letters
LGBTQIA: from personal experience
---
---
This article is 4 years old and may no longer reflect current clinical practice.
---
I write in response to the recent LGBTQIA issue of O&G Magazine. I was unaware this issue was planned, and I could not conceal my astonishment when I saw it. It made me reflect on my own life, and I wanted to share my thoughts so that colleagues might understand the journey from outsider to belonging and hear the voice of a longstanding College Fellow who happens to be gay.
I grew up in Doncaster, which was, in the 70s, a standard outer suburban middle-class area with a lower socioeconomic status than it has today. Both of my parents left school at 14. I was the first person in my extended family to complete secondary school, let alone go to university and get into medicine. I had wanted to be a doctor for as long as I can remember because, in my tiny universe, that seemed to me to be the most noble and important thing anyone could become. Throughout primary and secondary school, I had a blinkered approach to achieving this goal, but pouring my life into study achieved something else. It shielded me from the environment I lived in, where I didn't fit or belong, and in the longer term it allowed me to escape from that world. I instinctively rebelled against the football-based male culture that was the sole reason for anyone's existence in those days. For his first child, my father proudly bought a pair of football boots and I went to one practice session aged eight. I hated it. I immediately put my foot down and after many tears and refusal on my part, and anger on my father's, I never played football again. As I had younger twin brothers who happily fitted into this culture, they became the focus of my father and he and I basically ignored each other from then on. Often my parents' friends and acquaintances were surprised to discover my brothers had an older brother. Last year I found an archived magazine of the local junior football club and found an article by my father proudly referring to his 'two sons' and the number of games they had played there. I avoided every contact I could with what I now regard as toxic male culture. To this day, football symbolises that world and my life as a child and the harm done, and I cannot engage with it.
High school was a nightmare until the last two years. Like most doctors, I had been a very bright polymath child who was good at everything academic. My primary school had been a fantastic experience, with two other kids from my year getting into medicine at Melbourne University as well as me. High school was not great. That curious, inquisitive and mostly happy child vanished after puberty. I was constantly the target of bullies who clearly knew I was a 'poofter' even before I knew what that meant. I was also targeted because I was clever and got good marks. So again, more avoidance, hiding in the library during recess and lunch, and walking different routes home from school to avoid getting beaten to a pulp. The last two years of school were much better because, in those days, most kids finished at 15 or 16 and these were the ones who bullied – girls as well as boys. Luckily, due to Gough Whitlam's policy, university was free for me, for which I am eternally grateful. I would not be here today without that policy. With my family's financial situation, even a HECS degree would have been unthinkable as we could barely afford the books I needed for study.
So, I achieved a good mark in HSC and, to everyone's surprise except mine, got into medicine. Having achieved this goal, I became lost. I didn't speak to anyone for three months until I found someone else who had gone to a high school. All around me were super rich, confident, private-school kids who were at least as smart as me, and mostly much smarter. Whatever I had felt was good about me rapidly disappeared into low self-esteem and self-hatred. I truly hated myself. I didn't want to be gay, AIDS was becoming apparent and this just shut me down into
a place of emptiness and self-loathing. And of course, being gay was a crime – I was a criminal. I didn't do very well at university; not badly, but in the middle somewhere, like most of my friends. I eventually opened up to these friends that I was gay, and while they were supportive, I supressed doing anything about it. I am not sure where the shame and self-disgust came from; my family were completely non-religious. I think, though, that homophobia is a huge part of Australian toxic male culture and it pervaded all aspects of my life. On a high note, I loved O&G, got a good mark in it, and won a prize as well, so I always felt my career would go this way. I think gay men seem to develop a lot of empathy for women, and I know I much prefer talking to, and being friends with, women rather than men. I guess that goes for patients, too.
I made a friend at university; the first male friend I ever had. Predictably, this ended in tears because I fell for him. This is a common story. I forgive myself and I forgive him for what followed because neither of us had the emotional intelligence or maturity to respond to the situation. A friendship was destroyed because of society's imposed views on homosexuality. I fell into a very deep depression, dealt with this by not eating, studying very hard, getting a part-time job and saving money for the traditional overseas elective, and I finished my last year of medical school. The last three years of university were a lot better than the first three and being at clinical school with my friends helped me though that time.
So, there I was, a newly qualified doctor, full of shame and self-hatred, feeling inferior to everyone around me. All I did for the next few years was work enormously long hours. I didn't try to meet anyone because of the ongoing shame. I decided to try and get into O&G after a six-month rotation for a Dip Obs, and I loved the work. I studied really hard for the first part and got into the program. There I worked even longer hours. During my first year of training, in retrospect, I became deeply depressed and I basically stopped eating and dropped to 57kg. All my uni friends took a year off and travelled overseas. I had a distant relationship with my family and I used work as an excuse to avoid them. My school friends dropped away. What got me through this was a well-timed break trekking through Nepal with my friend Virginia, and transferring to another hospital, which was also full of bullies, but at least they were different ones, and I had exams to pass. Emily Olive was very supportive during this time, and she was the only colleague I could trust. For the first three years of my training, which were in Melbourne, bullying was rife and only two consultants during that time were kind to me – Helen Andersen and Jacqui Smith. Other than these two women, bullying was how we were taught and treated, and male consultants would often make homophobic remarks, including one that I will always remember 'Faggots should be banned from doing surgery'. Even though I'm now 56 years old, there are still people who practice medicine in Melbourne that were such horrendous bullies that I feel I would vomit if I saw them, that's how visceral the feeling is. I bumped into one at a meeting recently and, out of nowhere, had a full-on panic attack and was rescued by the Northern private practice midwives who recognised my distress and intervened to get me out of that encounter. Thank you, Andrea and Hannah. It's not fair that I should react like this, and it's that encounter that made me want to write all of this down.
Finally, at aged 28, I met my future husband Mark, who worked in the operating theatre where I was working as a registrar. We have been together for 27 years. We moved to Cairns for my fourth and fifth years of training, and I spent from 1993 to 2013 in that paradise. My boss, Michael Humphrey, was very supportive to me and Mark, and stood up when senior medical staff made homophobic comments about me. However, that type of behaviour was rare, and I made wonderful friends who I love deeply. Of particular note is Liz McKenna, who has supported us in so many ways and been such a strong support in my life, I can never thank her enough. Thanks also to David Harley and Robyn Mathers who welcomed us into their lives from the time we arrived in Cairns. I'm so proud of the wonderful team of women specialists who now run the service in Cairns, and that I was able to encourage them and help them in their careers; they are all wonderful friends who I miss very much. The fantastic midwives are close friends too and I miss them also.
Behind the move to Cairns was the need to move away from my family and be far from them. Gradually, all of them except my father became aware of my sexuality and my relationship with Mark. My brothers were always supportive, even though they had journeys of their own to get there. My nieces came up for holidays and, to this day, they love their gay uncles. All of this was a secret from my father, however, who could not be told, and despite others suggesting he would have accepted me, I know this would not have been the case. My father died nearly 12 years ago, and it is sad to say that my life actually improved after he died because there was no more need for secrets. I did get along better with him after I left Melbourne, but it was never a close relationship and I blamed him, fairly or unfairly, for my unhappiness as a teenager and young adult. I also treated him appallingly once I was qualified as a doctor, as he was a bit of a coward and afraid of authority figures, which I apparently now was. So, I was rude, condescending, nasty to him, and he lapped it up and begged for more, which outraged me even further. I could not reconcile this behaviour with the verbal abuse, anger and rage directed towards me as a child and teenager; being ignored and left out, clearly one to be ashamed of and disowned. I certainly took revenge in my own later behaviour, but in the end, we reached a kind of steady state that worked for us, at a distance.
Mark and I returned to Melbourne for professional reasons at the end of 2013. By this time, I had been a consultant for a long time and was confident of my abilities and self-worth and regarded myself as equal to anyone. My new hospital was welcoming, supportive and proactive on LGBTQIA issues. For the first time, I entered a workplace proud of who I was and with no secrets from anyone. It wasn't perfect; I encountered a non-medical bully who made my life and others miserable, and sadly my apparent newfound confidence and feelings of self-worth evaporated, and I responded like I always did when I was young – withdrawing into myself, not sharing with Mark, reverting to type. Fortunately, this situation was resolved, but I was shocked at how easily my self-esteem was destroyed. Mark and I got married in New York in 2014, because I feared marriage equality would never happen here, and as I got older, I started worrying about dying and leaving Mark without any legal support or protection. We had already made a will, which was very expensive because we had to make it ironclad and protect it from being challenged.
I have had a fair bit to do with the College professionally and was on the Queensland state committee for many years. I have to say that Queenslanders seemed much more accepting and egalitarian than Fellows in Victoria. I was apprehensive about returning, but things have fortunately changed for the better since I left. There are still issues though. At one OSCE exam, an actress played the role of a lesbian patient. The candidates did not do well. During the preparation, I pointed out that there was no LGBTQIA content in the curriculum (it is still pretty minimal) so how could we expect trainees to be competent at responding to such a patient's needs? I still remember a lot of the candidates responded 'Yes, yes, but where is your husband?' after she mentioned her female partner! It's pretty poor that we examined for content we did not provide or teach. Another time, a group called 'Australian doctors for the family' became prominent, stating homosexuality was a health hazard because male homosexuals lived shortened lifespans. No insight into the fact that societal disapproval and marginalisation creates inequality; this was purely religious hellfire, brimstone and damnation – the same old hatred dressed up as concern. Some of this group's members were Fellows and Diplomates. I raised my concern and distress at this to the College president at the time, Rupert Sherwood, who was very supportive, but when he raised this with the College Council and Board, they did not see it as an issue and declined to comment or respond.
The marriage equality debate was a horrible time for the LGBTQIA community. For me and Mark, there have been issues with family (still), and at work I encountered homophobia from people feeling entitled to speak out in horrible ways. Since then, I find it very hard to be anything other than frostily polite, because I know they think I am inferior, sinful, evil or disordered. Fortunately, most of my workmates, and most of Australia, support our relationships, but I wish we did not have to go through this awful toxicity. The Catholic Archbishop made appalling comments about sacking gay staff in schools and hospitals. Michael Rasmussen and Sue Walker contacted me immediately from the Mercy to check how I was feeling, and to say they would always care for me, that I would always be welcomed at the Mercy. I cannot say how much that meant.
A support group of O&G specialists and trainees grew on Facebook, concerned at the College's silence on marriage equality. It is a health issue, not a political issue. Some people could see that, most noticeably Steve Robson, who as president championed our cause. We're all very grateful to him for doing so. I know there are those within the College who probably think I will burn in hell, but I don't care, they are ignorant people who will be left abandoned by the tide of public opinion, and they don't matter to me. I'm happy to leave them to their small and narrow lives.
So, imagine my surprise when I saw an issue of O&G Magazine dedicated to LGBTQIA issues. I was astonished! I showed it to Mark. I showed it to other gay colleagues who were equally amazed. For the first time, I actually felt I truly belonged to our College, truly welcome, because I've never felt that way before. I didn't think this would affect me as much as it has.
I often wonder what my life would have been like if society had been completely open and accepting of me from the time I was born. Would I have achieved more? Would I have had a better relationship with family and friends? What would life have been like without the bullying and self-hatred? Maybe I would have ended up as an empathy-free narcissist and bully, of which there are many in the medical world. I guess I will never know. Much harm has been done. But I am who I am, I am married to the man I have loved for 27 years. I guess we will see what future LGBTQIA doctors can achieve within their professional and personal lives, free from bullying and hatred. That wasn't my experience, but I'm glad I've lived to see the possibility.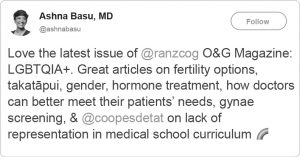 ---