Feature
A review of apps used by our patients
---
How did we ever manage without apps? Well, somehow, we did before 2008, when the app stores first opened their virtual doors and changed the way we live. The 'health and fitness' category of app has become particularly popular and, within that genre globally, there are more apps relating to pregnancy than to any other medical topic. Indeed, a 2019 Chinese study found that almost half of the participating patients recruited from two maternity hospitals in Shanghai used pregnancy-themed apps.1 This suggests that, while previous generations consulted friends, family, medical professionals and books, in just over a decade apps have become a leading source of pregnancy-related information. This is not surprising, given that apps offer readily accessible information at any time and at little or no cost. We may have reached the point where the mobile phone has replaced What to Expect When You're Expecting on every pregnant woman's bedside table.
And it's not only pregnant health consumers who are enthusiastic users. Health care professionals use them too to provide up-to-date medical resources or document medical care. A study of O&G residents in 2017 showed that 93% used apps in a clinical setting although, interestingly, only 53% recommended apps to patients, with many simply unaware of appropriate apps to suggest.2
The enthusiastic adoption of pregnancy apps is a positive development for women, empowering them to make more informed decisions about their health and maternity care.3 However, it's wise to approach all apps with a discerning eye. Some are poorly designed or, more worryingly, contain incorrect information. Others have the potential to compromise confidentiality if personal data is transmitted without encryption or sold for marketing purposes. There may be monthly subscription costs that do not become evident until an app is downloaded and opened. Many of the apps are from America or Europe and may contain information that does not relate to the Australian healthcare system.
Here are some of the types of apps and some examples that may be helpful to patients – they were generally selected on the basis of having the highest number of reviews in the App Store, and therefore probably the highest usage.
Cycle management
In our ever-busy lives, cycle tracking apps developed for fertility awareness and family planning can be extremely useful. Many of them use cycle timing to predict the fertile window by averaging the cycle length and predicting the timing of ovulation. As useful as this obviously is for women who are trying to conceive, its effectiveness depends on the accuracy of the data that users input. Other uses for cycle tracking apps include menstrual symptom recording such as pelvic pain or heavy bleeding, mood tracking and medication monitoring. They also promote patient engagement in their own care.4
Flo is the '#1 most downloaded health app in the App Store' as its website says. Its content is produced by a medical board of 60 doctors, psychologists and nutritionists from Europe and North America, and has research partners that include The University of Adelaide's Robinson Research Institute. Key features include its period tracker and ovulation calendar, which, harnessing AI, uses cycle length to predict ovulation and the fertile window (it can also analyse cycle length averages). Users can also document menstrual symptoms and access expert information about different women's health topics.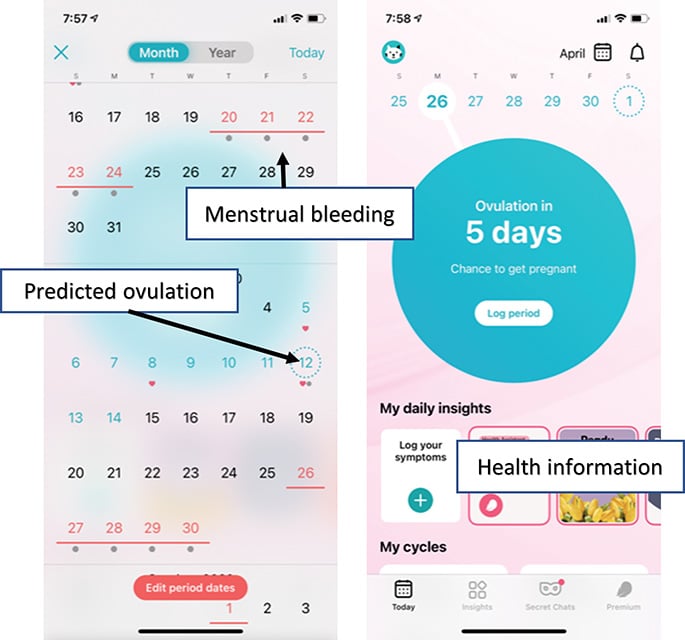 Pregnancy tracking
Pregnancy tracking apps tell users what's going on with their baby (and themselves) throughout their pregnancy. They usually feature a description of each developmental stage and explain what women can expect when they reach them. They can also be very useful sources of information, especially for first time mums-to-be. Another common feature is that they invite the user to conceptualise the size of their baby at any given point via a comparison with various fruits, all the way from a poppy seed to a watermelon. Most offer calendars to help users remember medical appointments, and some also feature blogs for expectant parents to connect with others who are at a similar gestation. The social media elements of pregnancy tracking apps often showcase photos of women at different gestations, although too much comparison with others can be dangerous. Pregnancy tracking apps that are popular among our patients are What to Expect and BabyCenter. These are two hugely popular and trusted apps, though one important note of caution is that neither of these apps states their source(s) of information.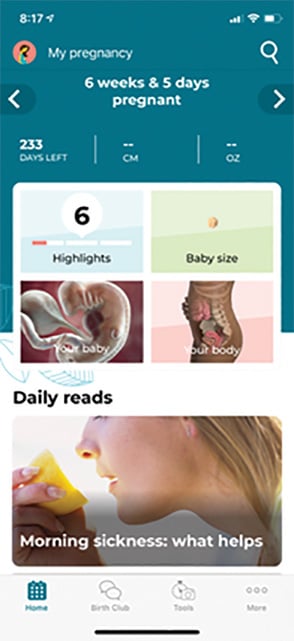 Fitness
Given the advantages of doing exercise throughout pregnancy, the many apps in the 'fitness tech market' that are designed for pregnant women is welcome. Many provide flexible fitness regimes, especially ones that can be done from home, and the possibility of modifying workouts (usually pre-prepared) according to the stage of pregnancy that the user has reached. It's worth remembering that online programs require a significant amount of commitment to stick to and benefit from. A disadvantage is that there's no one present to ensure that the exercises are being performed safely and correctly.
Baby2Body is an app that covers fitness and 'wellness' in both pregnancy and the postnatal period. It offers a wide range of workouts for various stages of pregnancy, and these workouts can be done without equipment. The fact that Baby2Body is partnered with the Royal College of Obstetricians and Gynaecologists should inspire confidence in its content, and it links to an impressive amount of health-related articles. Its content categories include 'Keep fit', 'Stay calm', 'Enjoy food' and 'Be informed'; the fifth – 'Feel sexy' – may contain information that doesn't arise in a standard consultation with an obstetrician, and may therefore constitute added value.
Specific conditions
The pregnancy app market has evolved to include offerings developed for women who have specific medical conditions, including mental illness, hypertension and diabetes. These apps aim to deliver accessible, clinically important antenatal health information that can play a part in the delivery of positive pregnancy outcomes.
Pregnant with Diabetes is a free app for pregnant women with types 1 or 2 diabetes, women who develop gestational diabetes during their pregnancy and diabetic women who want to become pregnant. Its content, which is produced by two professors in Copenhagen (one a consultant endocrinologist, the other a consultant obstetrician), provides users with information on diet, exercise and weight gain. There are two content-related caveats: first, it is very technical and would be difficult for women with low health literacy to follow; also, it contains slight variations on Australian recommendations.
There are glucose and blood pressure monitoring apps which provide the useful function of logging (and making easily accessible) BSLs, insulin dosing and BP data. A good example is MyFetalLife, which has features including a blood pressure tracker and gestational diabetes log.
Naming
Scott? Delta? Dennis? For some parents-to-be, deciding what to call their baby is a joy – two minds joined in seamless agreement on the perfect name. For others, the process degenerates into a war, where names of exes are played against famous football players. That's when a naming app comes to the rescue. Kinder uses a similar selection process to a dating app. Each parent downloads it and swipes left for names they do not like and right for ones they do. Then Kinder highlights the matches. Cute!
Apps for postnatal use
While every parent's experience of the postnatal phase is unique, it's fair to say that adjusting to the 'new normal' can be extremely hard at times. Apps that help parents adjust and feel more knowledgeable can help them better enjoy their new baby.
Based on the baby development book of the same name, The Wonder Weeks is based on the work of two Dutch doctors of educational psychology who claim that the mental development of babies takes place in leaps and bounds and that their behaviour is influenced by age-linked regression periods. The app provides a timeline to inform caregivers about upcoming leaps so that they can prepare to manage the more difficult behaviour (yet another sleep regression) that's coming their way.
There are many apps that help new parents document aspects of babies' behavioural patterns such as sleeping, feeding regime and the production of wet/dirty nappies – a handy tool for exhausted parents. Many track important medical information such as weight gain, as well as recording important milestones. One of the most popular is Baby Tracker, which has the brilliant feature of only requiring one-handed data input. There is a concern with these apps, though, namely that some parents become obsessive over this documentation.
The Maternal and Child Health app was developed by the Victorian Government's Maternal and Child Health (MCH) Service. It tracks children's development and discusses the milestones that are expected at each age. Recently updated, it has vital information on Victoria's child immunisation schedule and allows users to access their child's Australian Immunisation Record online. The app has links to health-related articles produced by The Royal Children's Hospital and the Better Health Channel, as well as lots of useful contacts. The Royal Children's Hospital produces its own app, called Kids Health Info. It has more than 300 multi-language fact sheets that give accurate and reliable health information, including advice on when to present for medical care.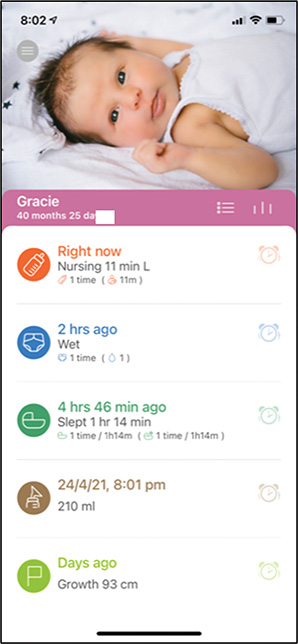 Conclusion
There are apps for just about everything. As a health professional, apps can help us care for patients by accurately logging healthcare information such as menstrual cycles, symptoms or BSLs in gestational diabetes. It is useful for us to know the best apps to be able to improve healthcare for our patients.
Health consumer apps can be useful for providing health information at our patients' fingertips. There are also apps to make life easier for patients by logging health data, developing home fitness regimes or switching baby monitor while baby is sleeping in another room. However, we must be aware of the limitations of these. It is still important to review the sources of the information to ensure our patients are receiving high quality information.
References
---