Feature
Umbilical cord blood banking in New Zealand
---
The blood obtained from the umbilical cord and placenta after delivery is a rich source of multipotent stem cells. These cells have the capacity to reconstitute the various cell lineages of the haematopoietic system and can be utilised in stem cell transplantation. This procedure is used to treat various acquired and inherited adult and childhood conditions including malignancies, immune deficiencies, metabolic and autoimmune disease. Additionally, there has been growing interest in stem cell utilisation in regenerative medicine to treat traumatic brain injuries, cerebrovascular disease, Parkinson's and myocardial infarction. In light of their potential use, there is considerable interest worldwide in the practice of umbilical cord blood banking.1 2
Umbilical cord blood can be collected from the umbilical vein whilst still attached to the placenta, before or after placental delivery at either vaginal or Caesarean delivery. In pursuit of an adequate collection, delayed cord clamping is not able to be performed. Umbilical cord blood units are expertly produced with assessment of stem cell enumeration and, if properly cryopreserved, can be stored for at least 20 years for future use. Umbilical cord blood banks now exist worldwide. The more numerous private cord blood banks provide preparation, testing, and storage of cord blood units for potential future autologous return, at a cost to new parents. Public cord blood banks rely on altruistic donation of umbilical cord blood for the use in allogeneic transplants, at no cost to the recipient, rather to the healthcare provider. The number of stored units in private banks exceeds those in public banks globally, at approximately 5:1. All umbilical cord blood banks should be accredited to relevant international standards of processing, testing and storage.3
Clinical Relevance
Umbilical cord blood transplants have been performed for several decades and provide an alternative, less invasive source of stem cells to bone marrow and peripheral blood. An estimated 40 000 or more umbilical cord stem cell transplants have been performed worldwide, both in children and adults. Simplistically, stem cells can be infused intravenously following conditioning chemotherapy which then migrate to the bone marrow, proliferate, and, with engraftment, demonstrate differentiation into mature cells.4 5
Allogeneic stem cell transplants involve infusion of stem cells from donors who are HLA matched (traditionally from full siblings) or matched unrelated donors from registries or cord banks. Recently, haploidentical donor stem cells (half matched donor, usually a family member) have shown success in allogeneic transplants.6 When treating haematological malignancies, allogeneic stem cell transplants harness both myeloablative conditioning chemotherapy used, and a potential graft versus disease effect from the donor stem cells. Allogeneic stem cell transplants may be used in the treatment of leukaemia, lymphoma, inheritable bone marrow failure syndromes, severe haemoglobinopathies, severe immune deficiencies, and inherited metabolic conditions. With comparison to bone marrow or blood-derived stem cells, immunologically naïve umbilical cord blood-derived allogeneic stem cell transplants have greater flexibility in HLA matching. They are associated with low rates of graft versus host disease and reduced risk of viral pathogen transmission. Cord blood derived allogeneic stem cells are, however, associated with slower haematopoietic engraftment. The pros and cons in clinical use are listed in Table 1 and 2.
Table 1. Pros and cons of private umbilical cord blood banking for autologous return in New Zealand.
Pros
Cons

Easily obtainable and minimally invasive
Robust storage potentially up to 20 years for autologous use
Potential use for research
Potential for regenerative medicine and future novel therapies

Unable to perform delayed cord clamping at delivery
Upfront and annual costs for private storage
Low likelihood of utilisation due to low lifetime incidence of diseases treated
Redundancy in that stem cells can be readily collected at diagnosis
Often insufficient stem cell yields for one or multiple oncological transplants
Potential manipulation of new parents by private cord banks
Due to the nature of their source, absolute numbers of stem cells may be insufficient for successful engraftment, especially in adults, hence at least two units may be required per transplant.7 8 9 With the success of haploidentical stem cell transplants which increase the breadth of feasible donor options, numbers of unrelated cord blood allogeneic transplants performed are declining worldwide (Figure 1).10
Figure 1. Rates of allogeneic stem cell transplants per year in the US.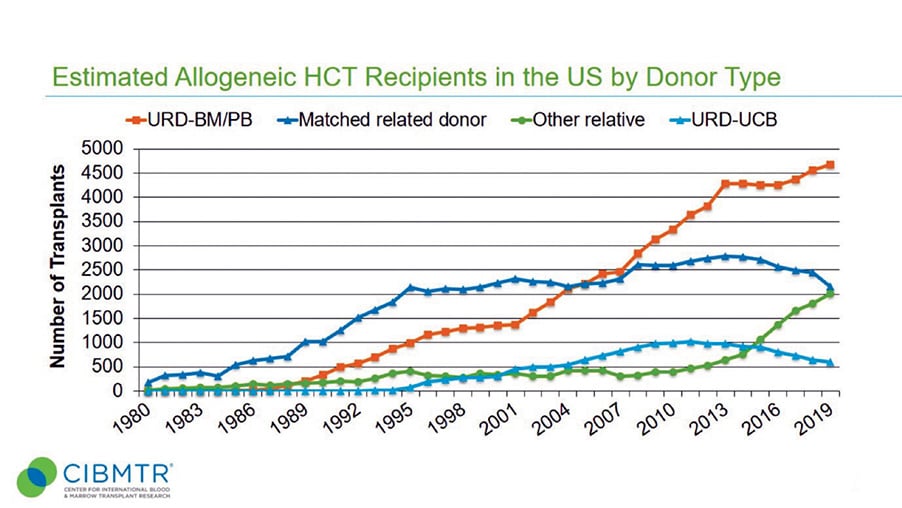 URD-BM/PB = unrelated donor – bone marrow/peripheral blood
Other relative – haploidentical donors
URD-UCB = unrelated donor – umbilical cord blood.11
Autologous stem cell transplantation describes return of one's own stem cells to facilitate use of therapeutic high-intensity chemotherapy. Unlike allogeneic transplants, the potential immunological benefits of introducing foreign stem cells do not exist, hence no graft versus disease effect is achieved. As the immune system is not replaced by donor-derived cells, inheritable blood conditions are not eradicated. Although there is considerable interest in autoimmune conditions and genetic manipulation of autologous stem cells, the vast majority of autologous transplants performed are for a limited set of haematological and non-haematological cancers only. In adults, this largely comprises high risk or refractory lymphoma and myeloma. For children and young adults, autologous transplants may also have a role in the treatment of brain tumours, germ cell tumours, and neuroblastoma. Importantly, unlike with allogeneic stem cell transplants, certain cancers such as acute leukaemias cannot be treated successfully with autologous stem cell transplants.12 13
The diseases for which autologous stem cell transplant may have a treatment role are generally uncommon or rare. Autologous transplants are also generally reserved for high risk or refractory cases of the disease in which less intense treatment is unlikely to be, or has not been, successful. For many of the paediatric cancers listed, treatment protocols often include tandem or even triple autologous transplants. In these cases, the absolute number of stem cells required to perform such transplants is likely to exceed those available from autologous cord blood banking alone. It is important to also note that autologous stem cells can be readily harvested from patients at the time of diagnosis in the vast majority of cases, and treatment options do not depend upon availability of prior banked umbilical cord blood units. What is unclear and cannot be easily predicted is the potential role for autologous cord blood cells in research and in future novel therapies.14
Commercialisation of umbilical cord blood banking
New Zealand does not have any public cord banking options available, although a small number of private cord blood banks currently operate. The cost to collect and bank umbilical cord blood is in the realm of $3000 NZD with an annual storage fee of $200–300 NZD. It is important to underline that private banks provide cord blood units for autologous return only. They have been criticised for directly publicising their services to expectant parents using data based on the successful use of cord blood from unrelated donors in allogeneic stem cell transplantation, often omitting the crucial distinction between allogeneic and autologous stem cell transplantation. This may result in exploitation of vulnerable parents who may not have enough information to make an informed decision. Private banks may also withhold commercially sensitive information regarding the adequacy of their products.15
Umbilical cord blood is a potentially valuable resource and a rich source of stem cells that can be used in treating a host of adult and childhood cancers. Private cord blood banking remains a controversial topic and an ethical dilemma for NZ clinicians, encompassing commercial interests, health inequities and the desire to do all that we can for our patients. It is important for clinicians to be cognisant of umbilical cord blood banking marketing to new parents and be able to provide evidence-based information for informed decision making (Tables 1 and 2).
Table 2. Pros and cons of public umbilical cord blood banking for allogeneic usage worldwide.
Pros
Cons

Easily obtainable, minimally invasive, robust storage
Allows altruistic donation
Greater flexibility in HLA matching
Reduced risk of viral transmission
Lower rates of graft versus host disease
Facilitates research

Unable to perform delayed cord clamping at delivery
Existence of easily obtained alternative stem cell sources and increasing donor options
Slower haematopoietic engraftment
Commonly insufficient stem cell yields often necessitating two units per transplant
Discussion
Ultimately, the decision to store umbilical cord blood is a very personal one for expectant parents, reflecting their own beliefs, values and priorities. Lead maternity carers play an important role in accurately counselling parents and providing evidence-based, unbiased information about their options. Expectant parents frequently identify healthcare professionals as their key source of information regarding cord banking options. However, healthcare professionals identify that they are poorly equipped to counsel those parents and were found to obtain their information from private cord banks, creating a conflict of interest.16 It is important for clinicians to have access to unbiased information about the pros and cons of cord blood banking. Discussions with patients should ideally define the restricted use of autologous cord blood units, the availability of other sources of stem cells including bone marrow and peripheral blood, as well as balance the benefits of delayed cord clamping.
The authors would like to acknowledge Dr Richard Charlewood (Transfusion Medicine Specialist) at New Zealand Blood Service for his expertise on the topic.
Our feature articles represent the views of our authors and do not necessarily represent the views of the Royal Australian and New Zealand College of Obstetricians and Gynaecologists (RANZCOG), who publish O&G Magazine. While we make every effort to ensure that the information we share is accurate, we welcome any comments, suggestions or correction of errors in our comments section below, or by emailing the editor at [email protected].
References
---