Letters
Letters to the Editor: Iron optimisation in pregnancy
---
It's time to prioritise iron optimisation in pregnancy
Dear Editor,
We read with great concern Dr Barton Smith's article in O&G Magazine, 2022, vol.24, no. 1. 'Normal serum-ferritin in pregnancy: less is more'. We wish to dispute some alarming claims made by the author thus highlighting the importance of correcting obstetric iron deficiency for both mother and baby.
Dr Smith argues that the development of iron deficiency, which he mislabels hypoferritinaemia, 'serves two logical protective purposes' namely protection against sepsis and miscarriage. Dr Smith fails to acknowledge the complex interplay between iron and immunity negating to mention the important role iron plays in humoral immunity including neutrophil, macrophage, and T cell function.1 Secondly, whilst we agree that obstetric complications are increased in iron overloaded states, it cannot be extrapolated that the correction of iron deficiency is harmful. This is analogous to tolerating maternal hypothyroidism due to the well-recognised adverse obstetric outcomes associated with hyperthyroidism.
The article makes no mention of the breadth of evidence supporting the negative effects of obstetric iron deficiency. Iron plays an essential role in cellular respiration and mitochondrial function and is a cofactor for the synthesis of the neurotransmitters dopamine and serotonin.2 These non-erythropoietic roles explain why individuals with iron deficiency can be symptomatic even in the absence of anaemia with manifestations including fatigue, poor cognition, reduced physical performance and mood disturbances.3 4 Small randomised trials have shown that correction of iron deficiency improves the ability to perform simple and complex cognitive tasks whereas correction of anaemia merely improves the speed in which these tasks are performed.5 Specific to the obstetric population is iron's impact on maternal infant interactions and link to postpartum depression.6 7
Whilst studies on the correction of obstetric iron deficiency fail to prioritise quality of life scores as outcome measures, objective measures of anaemia at birth and risk of blood transfusion are reduced,8 and whilst some may take the decision to transfuse lightly, it is not without risk including a 10% risk of alloimmunisation9 which may negatively impact future pregnancies in regards to the risk of haemolytic disease of the fetus and newborn (HDFN).
There is evidence to support that neonates born to iron deficient mothers can develop iron deficiency with or without anaemia,10 and in observational studies this has been linked to inferior neurocognitive performance at five and 10 years namely in areas of language ability and fine-motor skills.11 Additionally, lasting behavioural issues have been seen at five years despite correction of this iron deficiency in infancy.12
Finally, whilst we acknowledge the concern in the obstetric community about the use of intravenous (IV) iron, we believe that ignoring the issue is not the solution; rather, we advocate for a proactive approach to iron optimisation in obstetrics with early identification of iron deficiency prior to the onset of anaemia. This also facilitates the greater use of oral iron through smaller doses or alternate day dosing thereby reducing the reliance on IV iron. Waiting for the woman to ask for iron replacement, as Dr Smith states, is unacceptable.
Iron optimisation in women working group:
Dr Lisa Clarke
Transfusion Policy and Education, Australian Red Cross Lifeblood, NSW, Australia
Haematology, Sydney Adventist Hospital, NSW, Australia
Dr Kylie King
Department of Haematology, Wollongong Hospital, NSW, Australia
Graduate School of Medicine University of Wollongong, NSW, Australia
Dr Catherine Tang
Department of Haematology, Gosford Hospital, NSW, Australia
School of Medicine and Public Health, University of Newcastle, NSW Australia
Dr Lynn Townsend
Ultrasound Care Australia
School of Women's and Children's Health, UNSW Medicine & Health, NSW, Australia
Dr Talat Uppal
Women's Health Road, NSW, Australia
Department of Obstetrics and Gynaecology, Northern Beaches Hospital, NSW, Australia
Dr Nada Hamad
Department of Haematology, St Vincent's Hospital Sydney, Australia
School of Clinical Medicine, UNSW Medicine & Health, NSW, Australia
School of Medicine, University of Notre Dame, NSW, Australia
Right of reply
Dear Editor,
Thank you for inviting me to reply to 'It's time to prioritise iron optimisation in pregnancy'.
Dr Clarke et al assert a failure to acknowledge 'the important role iron plays in humoral immunity including neutrophil, macrophage and T-cell function'. In doing so, they incorrectly state T-cell function is a component of humoral immunity, when it is in fact cellular. More importantly, there is no evidence that intracellular immunity is deficient in iron in response to the normal pregnancy iron debt, or that gestational iron enhances immunity. There is, however, evidence that intravenous (IV) iron therapy worsens infections,13 which is one reason the statement 'it cannot be extrapolated that the correction of iron deficiency is harmful' is incorrect. Other harms of gestational iron therapy include permanent staining,14 hypophosphataemia,15 16 17 financial cost,18 myalgia,19 fishbane reaction,20 anaphylaxis,21 death,22 bloating, constipation, haemorrhoids, and anal fissures.
'Normal serum-ferritin during pregnancy' clearly stated that severe anaemia is uncommon in Australia, and specifically targeted the over-investigation and unnecessary treatment of non-pathological pregnancies with IV iron, not appropriate treatment of severe anaemia. The claim that 'neonates born to iron deficient mothers can develop iron deficiency with or without anaemia' refers to a cohort study of high-risk American adolescents prone to IDA prior to pregnancy whose babies had cord haemoglobin <130g/L in 24% of cases.23 The majority of literature is in overwhelming agreement that neonates are not born anaemic unless maternal anaemia is severe (<90g/L).24 25 26 27 28 29 30 31 32 33 McCarthy et al34 found cord-ferritin assays <76ug/L in 8% of neonates but did not find any association between this and any cognitive, neurological or behavioural outcomes in their whole-data analysis. The only positive findings were an increase in childhood behavioural difficulties amongst children born via caesarean section with low cord-ferritin (positive at two and five years of age), and in those born with low cord-ferritin and to obese mothers at five years of age, but not earlier. The authors stressed caution regarding low numbers and extensive adjustments to their modelling, and the paper made no comment on maternal anaemia, iron parameters or iron therapy. Cord-ferritin as a gauge of fetal iron deficiency is inconsistent (Figure 1), and unless maternal anaemia is severe, most studies have found it is independent of maternal haemoglobin, maternal ferritin, fetal haemoglobin, or iron therapy.35 36 37 38 39 40 41 42 43 44 45 46 47 48 49 50 51 52
Figure 1. Mean cord-ferritin assays from >100 studies reported in the literature between 1975–2020 (adapted from data presented in Delaney et al and Zhang et al)21,22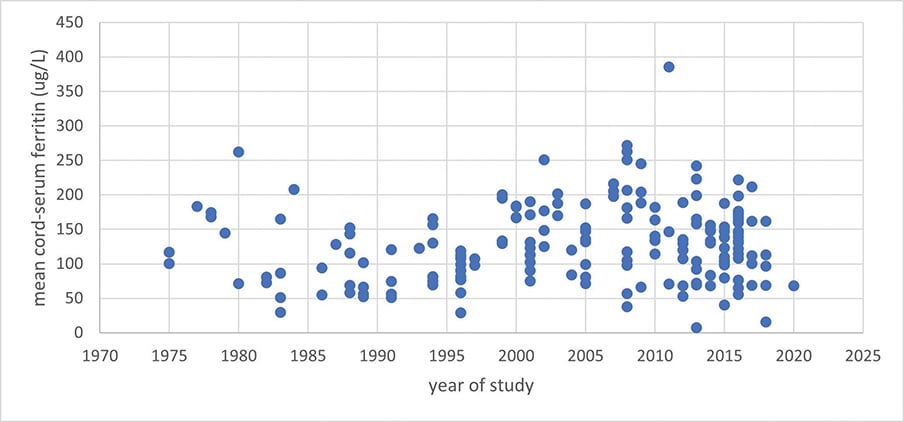 '…the breadth of evidence supporting the negative effects of obstetric iron deficiency', cites a small study in support of improved quality of life (QOL) measures amongst anaemic women after randomisation to iron therapy,53 yet these women were not pregnant. This oversight is made worse by ignoring placebo-controlled RCT data that shows iron therapy does not improve fatigue or general wellbeing in non-anaemic iron bereft subjects.54 Further, a study that focused on QOL outcomes specific to pregnancy comparing IV versus oral iron found that many positive QOL indicators, whilst initially improved with IV iron, failed to persist at delivery or postpartum, despite patients being loaded with supraphysiological doses of iron.55 Placebo aside, an improvement in physical QOL indicators immediately after IV iron may be attributed to an immediate inflammatory reaction rather than iron providing cellular energy. IV iron also has the propensity to decrease energy due to well-known side effect of hypophosphataemia – phosphate is a key component of the Krebs cycle.
Logically, if haemoglobin is used as a trigger to transfuse blood, then iron therapy should decrease the number of transfusions in the event of haemorrhage, and proportionally more benefits should be realised in populations with a higher incidence of anaemia, but this has not been realised in practice.56 57 58 Dr Clarke et al have ignored these landmark trials, and instead appealed to a multi-interventional study which reported a decrease in the number of postpartum transfusions administered to women with Hb 70–100g/L, but not <70g/L, having instigated the following interventions:
increased education regarding the clinical threshold to transfuse;
encouraging single unit blood transfusions, and
increased antenatal screening with serum-ferritin and use of oral iron.59
It is not possible to determine how much of the reported decrease in blood transfusions may have been due to the latter. Screening for iron deficiency with a serum ferritin cut off of 30ug/L renders an inordinate number of pregnant women pathological, and in settings with a low prevalence of anaemia and a low postpartum haemorrhage rate, the number needed to treat is exorbitant.
Failing to treat 'iron deficiency' during pregnancy is not 'analogous to tolerating maternal hypothyroidism.' Failing to treat overt hypothyroidism is negligent. Treating hypoferremia in low-risk pregnant women with a healthy haemoglobin is of no proven benefit. Svanberg's ingenuous iron isotope experiments demonstrated that first trimester iron absorption is actively reduced compared to the non-pregnant state.60 Early pregnancy prophylactic oral iron is often counterproductive because of this – unpleasant side-effects are largely due to poor absorption and excess gut iron. Women who are unnecessarily trialled on oral iron in early pregnancy often 'fail' therapy due to poor tolerance which creates an aversion to oral iron and predisposes women to avoidance of it later in pregnancy when it is readily absorbed and more likely to be of benefit if needed.
Both intolerance to oral iron and refractory serum-ferritin <30ug/L are common pregnancy scenarios, and many obstetricians revert to IV iron in these scenarios regardless of anaemia.61 It is irrefutable that routine screening for iron deficiency and/or routine oral iron therapy has contributed to the increased use of IV iron during pregnancy. Whether this consequence is intended or not is irrelevant, and it is naïve to claim early prophylactic oral iron and/or more ferritin screening will reduce this trend. Pharmaceutical companies profit handsomely from routine treatment and universal screening, and have manipulated modern antenatal care into an iron protocol to take advantage of it. This contrasts with the targeted approach to high-risk antenatal anaemia currently recommended by RANZCOG – screening with a full blood count and judicious use of oral iron, which is logical, safe, and cost-effective. 'Normal serum ferritin in pregnancy' did not state that doctors should wait until patients ask for iron but expressed appropriate caution that IV iron should not be administered purely on maternal request, or for unsubstantiated reasons. The term 'hypoferritinaemia' does not exist in the article – the accusation it was used as an incorrect label is absurd.
Dr Barton L Smith, BSc (hons), PhD, MBBS, FRANZCOG
References
---