College -> Leaders in Focus
Leaders in Focus: Cherisse Buzzacott
---
This O&G Magazine feature sees Dr Nisha Khot in conversation with women's health leaders in a broad range of leadership positions. We hope you find this an interesting and inspiring read. Join the conversation on Twitter #CelebratingLeadership @RANZCOG @Nishaobgyn
Cherisse Buzzacott
Midwife
In this edition of Leaders in Focus, I speak to midwife, Cherisse Buzzacott, a proud Arrente woman from Alice Springs, NT.
I 'found' Cherisse on Twitter @sistercherisse (I recommend social media for making connections with people one may never meet in person in our busy lives. My experience of sending DMs to like-minded people has been overwhelmingly positive and great for my own learning and understanding of many tricky issues). Cherisse was truly generous despite the many pressures on her time as a leader, midwife and mum.
Cherisse's journey in midwifery has taken her from Alice Springs to Brisbane, Melbourne and Canberra in various roles. She was employed by the Australian College of Midwives (ACM) as the Project Officer for the Birthing on Country (BoC) project and co-chaired the Birthing on Country Strategic Committee. She is the current Chair of the Board of Trustees of the Rhodanthe Lipsett Indigenous Midwifery Charitable Fund (RLIMC).
Readers of this magazine need no reminding of the gap that exists between pregnancy and birth outcomes for First Nations women as compared to non-Indigenous women. In recent years, the effect of racism rather than race as a risk factor for poor maternal health outcomes has been under the spotlight across the world. Research from the Centers for Disease Control and Prevention (CDC) in the USA shows that black babies are three times more likely to die in the hospital than white babies, when cared for by white doctors. This disparity halves when black babies are cared for by a black doctor showing that race concordance means that healthcare professionals are more attuned to social risk factors and cumulative disadvantage. In Australia, RLIMC was established as a scholarship fund by ACM in 1996 and renamed as RLIMC in 2005. The express aim of this organization is to contribute to Closing the Gap by providing assistance to First Nations people who are training to be midwives, to increase their numbers and enable provision of culturally concordant care for all First Nations women and families.
I hope readers will find this interview inspiring. You can support and follow Rhodanthe Lipsett Trust on all social media platforms as well as donate via their online giving platforms across the year.
You can follow Rhodanthe Lipsett Trust on Facebook at facebook.com/FirstMidwives/ and Cherisse on Twitter @sistercherisse.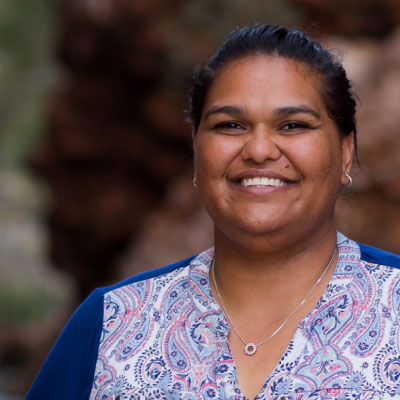 Could you please tell me about your childhood and early years? What or who influenced your decision to train in midwifery?
Growing up, I was always influenced by the strong Aboriginal family members who raised me. They were working in health and education amongst other careers. My parents had said that I might one day work with my people to try and improve challenges that are faced by Aboriginal people in Mparntwe (known as Alice Springs) as well as those people living in remote communities. Health was a big focus for me as I knew I wanted to work in health.
My mother wanted to do nursing but had me when she was young, so I think that was inbuilt in me to work alongside First Nations people as either a doctor or a nurse. I never fancied working alongside sick people and even now am not great with health issues outside of pregnancy or childbirth etc. When a university tour came to my school I first heard about midwifery. I thought it interesting working alongside mothers and babies, but over my senior years of schooling became more knowledgeable about midwifery and wanted that to be my career focus. I knew it was a way I could contribute back to my community using some of the insights and aspirations my family showed me along the way.
What is the Rhodanthe Lipsett Trust?
The Rhodanthe Lipsett Indigenous Midwifery Charitable Trust was set up in 2014, in recognition of Dr Rhodanthe Lipsett OAM, who had a passion for supporting Aboriginal families across the span of her career as a midwife, author and advocate and in recognition of her support of the Australian College of Midwives (ACM). The Trust gives scholarships for First Nations student midwives and First Nations graduated midwives who have an interest in professional development opportunities.
The RL Board is made up of 8 First Nations midwives, all with an interest and professional focus on birthing on country, teaching, research, workforce development, advocacy and First Nations maternal health to name a few things. I have been the Chair of RL since 2018. A number of key partnerships have supported us, namely Kimberly Clark Corporation, with Huggies Australia, giving support and generous donations for the lifespan of the Trust. We are a not-for-profit and rely on donations and fundraising efforts of midwives and supporters across Australia.
What is Birthing on Country and why is it important?
Birthing on Country is a metaphor for First Nations birthing practice and incorporates culture and the traditional skills of our old people. It is not to do with birthing in a physical location, as often women and birthing people are removed from traditional lands for many reasons since colonisation, but it is about the essence of everything First Nations people hold in their culture, living, family and how they use that to empower birthing and pregnancy.
All First Nations women have the right to access culturally appropriate and culturally safe care, in a hospital or in the bush. As midwives we learn about choice and informed consent; those things are often few and far between for women and people in my community.
A paper by CRANAplus, Australian College of Midwives and Congress of Aboriginal and Torres Straight Islander Nurses and Midwives describes the early insights around birthing on country1. There is so much work being done, and there are so many amazing First Nations midwives, organisations and researchers who are leading the way.
Why is it important for more First Nations women to train in midwifery?
The difference it makes having a First Nations midwife when you're a First Nations woman, is immeasurable. We need more First Nations midwives to ensure the safety and wellbeing of women and families. To be able to develop trust and confidence in the person that is caring for you is so important at a vulnerable time in someone's life. Having a First Nations midwife eradicates much of the uncertainties, brings forth concerns and wishes of women when needing to form relationships, and creates hopes to have care that is non-biased and free of judgement. Many of us midwives know the lives, and experience the culture, of those First Nations women and people that we care for.
As midwives, we also work across all platforms in teaching, education, and research; we need to be the ones driving the issues that affect us and our communities during pregnancy and childbirth as we know the problems and the solutions. We know our people best and can provide an experience that surpasses any other because we live and breathe the same beliefs. Although they differ among nations and language groups, we have an acceptance and forethought to cater to families and the wellbeing of their new baby.
What can our readers do to engage First Nations women in pre-pregnancy and pregnancy care?
It's all about trust and honesty, working towards a common goal (healthy baby, pregnancy etc.) and ensuring that you have used every tool accessible to allow the woman or person to have a say in their maternity healthcare plan.
It's ensuring the high-quality service you're providing is shared throughout the whole of the service, including all clinical staff, staff in admin, cleaners and anyone else who may be involved in the care. It is crucial to ensure there is transparency and a common goal of supporting First Nations families, free from judgement, and individualised to each family. Cultural First Nations mentors in the workplace can support this, as well as regular reflections and consumer feedback.
What does a typical day look like for you?
I am now working for an organisation called Children's Ground (childrensground.org.au), a First Nations-governed Aboriginal not-for-profit organisation, that seeks long term change to Arrernte people in Mparntwe. I work as the Head of Health, overseeing health promotion and health support for my team, working alongside early-years educators. We have an all-of-community response and include teaching and sharing of Arrernte language and culture.
I am returning to midwifery in December this year, after six months away. A typical day for me is usually up early, getting my three boys ready for school and day-care, dropping them off and then attending work. As a midwife I was working in shift work and was finding the balance as a mum and midwife difficult, hence making the transition out. I am always in daily contact with my Rhodanthe board and am typically setting up late afternoon Zoom meetings with donors, or writing papers for journals, as well as planning for board or partnership meetings. I spend my day meeting with stakeholders and supporting staff on the best ways to improve the health and wellbeing of my people, the way that I was taught.
I am blessed to work alongside my Arrernte Elders and share culture and language with them, as well as attend on-country learning, which is every few weeks. I am expanding my knowledge in health but will always be a midwife to my core.
What have been the highlights of your career?
There have been so many highlights in my career. The biggest reward for me will always be being a part of the birthing journeys for a number of my family and friends who I have supported over the years.
Becoming the Chair of RL and leading it to the successful organisation it is today is also big on my career highlights.
I have participated in events, conferences, interviews, written for journals, published my own articles and written for a chapter in a book to be published in 2023, so I can't credit one thing as being more superior than the rest of the things I have been involved in over the years. There is definitely more I want to achieve so this could change.
I would say meeting and interviewing Cathy Freeman on two occasions, as an Aboriginal girl who grew up admiring her amazing talent, was top tier. I told her and others that I've achieved my peak… not entirely true, as I said there is more to come, more I must learn and more I can share throughout my life.
Have you faced racism in the workplace? How have you dealt with it?
I have experienced bullying and backhanded racist comments not directed at me. I can say the bullying by a team leader midwife (non-race specific) affected me more than the racist comments.
I did see racism and discrimination towards First Nations women leading to a lower standard of care being provided. I witnessed this daily as a student and it drove me to seek clinical placements elsewhere to interstate hospitals, thinking I would see improvements. The comments I heard were from patients and their families, that derogatory names had been used that are harmful to First Nations people. In each instance, I knew this was a moment of education and often spent time talking to mothers and families (if appropriate) when these occasions would happen. Working in Melbourne in a large hospital where many cultures met within the hospital made me realise that this is often more about under-exposure to First Nations people and the influence of what they had heard and saw in the media affecting their ideas about my culture and community.
The racism I experience as a First Nations woman is far different; this was and still is a regular issue when I access health care for myself and my kids. The disregard for our needs is huge but will never be dealt with in a system that was not designed for us, without our input into the policies and services. Therefore, we will not see change unless we are redesigning our own health care provision, like that of birthing on country services.
What are some of the barriers you have faced as a First Nations woman in leadership?
One of the most recent issues has been the disregard of my knowledge and expertise as an Aboriginal woman. Being overlooked for certain tasks or roles where First Nations maternal health is at the forefront, not having been invited to speak or share alongside non-Indigenous colleagues. It's also the afterthought that they need to include a tokenistic Black voice, let's reach out to Rhodanthe or myself at the last minute for an opinion or review of something that has been developed but without us included. Those are the challenging moments for me.
Then on the other hand, like many First Nations women, there's the expectation that we know all, and it is our job to teach others. This is not the case. I know about my culture and some of the women I care for, but I don't pretend to know everything. It's not our role to educate or answer as the only Black midwife in a hospital. It's the unpaid and unrecognised free labour that I am often lumped with.
How do you achieve work-life balance?
I will be honest and say that I don't. Every day is a challenge and if not for my supportive family, I would not be able to do the work that I'm doing. The last six months has seen a slight shift towards better care of myself, and learning to say no when things come up.
I have an amazing RL Board who I can delegate requests to and are supporting me in my role as Chair. This is something I am working on, and I think because of my work and the person I am I find it hard to turn away when opportunities come up where First Nations maternal health is at the centre.
My kids recognise my work, and I am lucky that the organisation I am currently working for allows for family support and flexibility. My kids are with me at every chance and are included in everything. They are learning the culture and language and I am glad for it. There is a lot of time that goes unpaid or unrewarded, but I feel it's the work that needs doing and I know I can, so I do. If anyone knows the secret to achieving work-life balance, I will gladly pay to learn.
If there was one thing (or three) that you could change in maternity care to make it safer for First Nations women, what would it be?
This is the most challenging question you have asked me – to name three of a hundred things!
Birthing on Country services
Remote birthing services to be established, or better support to women in remote areas
Embedded, regular, and compulsory cultural safety training for all health care professionals and employees, including high level management/CEO to cleaners and laundry staff.
What gives you hope and optimism for the future?
The First Nations student midwives that engage and apply for Rhodanthe scholarships each year makes me excited and hopeful for change. That First Nations midwives are fundraising, applying for scholarships and seeking out further professional development opportunities makes me happy to know there are midwives coming up that are not just here for being a midwife but have the passion and drive to make a meaningful change in their communities, improving lifelong health and wellbeing for next generations.
It's the people I see at CATSINaM (Congress of Aboriginal and Torres Strait Islander Nurses and Midwives) conferences, during breakout sessions, as we chat, that make me excited about our future. Among all the things that go wrong, I see small changes that are hopefully making a big impact in someone's life.
My kids inspire hope; as they learn and grow, I am challenged and excited about the opportunity to mould them in the way that I was shaped to be who I now am.
References
Effect of a Birthing on Country service redesign on maternal and neonatal health outcomes for First Nations Australians: a prospective, non-randomised, interventional trial. Available at: https://www.thelancet.com/journals/langlo/article/PIIS2214-109X(21)00061-9/fulltext
---