Feature
Oriori Mai, Oriori Atu
---
When I was in high school, I was handed a copy of Bruce Chatwin's book, The Songlines, about his journey through the Australian outback researching the Aboriginal Australian Songlines. I was intrigued by the concept of people singing their landscape into being and creating these extensive mind maps. My naive understanding of songlines became etched in my memory to be recalled with more critical awareness many years later.1
Songlines trace the Aboriginal Australian routes and roots, that link descendants to their ancestral spirits whom they acknowledge for constructing the terrain they now traverse. By singing about the landscape features, history and natural phenomena they reveal their ancestral pathways. Repetition of their songlines over a span of time intentionally encodes the geographical information and stories into the consciousness of the generations who follow.2 3 4 5
My ancestral land, or turangawaewae, is situated around the Banks Peninsula in Ōtautahi (Christchurch). I was born away from this whenua (land) so I experienced my Marae on major occasions, such as tangihanga (funerals), whānau reunion, hui a tau (annual tribal hui) and Tiriti o Waitangi celebrations. Most of my time in Ōtautahi was at the whānau whare at 54 Cox Street, Merivale. It was worn with the tread of many aunties, uncles and cousins gathering and dispersing.
This little state house carried intergenerational stories expressed in tears, laughter and song. Here, I heard stories of my grandmother when she was younger living at the Pā (village). She attended labouring māmā to assist with their births. She also washed and prepared the tūpāpaku (dead bodies) in readiness for their farewell. This fascinated me that the same person would attend to both ends of life – it made sense, especially knowing that often at tangihanga creation karakia and recital of whakapapa, and other similar practices could be heard during pregnancy and birth. I stored this precious gem and I called upon it for my Master's and Doctoral research on customary Māori birthing practices.
I was particularly interested in the practices that included: rongoā Māori (specifically herbal remedies for hapū māmā and pēpi care), the use of animal and plant oils, mirmiri (massage), water for cleaning and calming, the use of stones for pressure, the use of whāriki (woven mats) to birth the pēpi and whenua (placenta) upon, the ipu whenua (a repository to carry the placenta), whītau muka (flax cord) for tying the umbilical cord, māripi (knives) made from a variety of natural materials to cut the umbilical cord, karakia (incantations) that endorsed atua as our protectors and waiata as transmitters of knowledge.
Specific waiata known as oriori, pō pō and/or ara reminded me of the Aboriginal Australian's songlines. Oriori can be recited to the pēpi whilst being born and can calm the hapū māmā during labour. The various expression of oriori invites the māmā to move, sing or breathe through the rhythmic chanting or melodic singing. Oriori can express whakapapa (genealogy), highlighting parents, ancestors, victories and defeats from past tribal feuds. Early oriori could include a challenge for the pēpi to avenge a whānau death when they are older. Oriori can also be used to lament the loss of a child and these oriori could be heard at tangihanga as an expression of aroha (love), and to acknowledge the lineage and history of the tūpāpaku (deceased).6 7 8
The late Ngāti Porou rangatira (leader) Amster Reedy was instrumental in reinstating oriori and karakia with whānau for many years prior to commencing his doctorate on oriori. He ran workshops to teach and support whānau to write and sing their own oriori.9
Ngāi Tahu historian Samuel Robinson wrote that oriori were an iteration of the creation stories that provided insight into the birthing journey the pēpi will commence. Through the many phases of Kore (void) and Pō (darkness) until they arrived in Te Ao Marama (the world of light) – the phenomenon of birth emulates the creation phases of the universe.10
Te kore te Whiwhia – The intangible void
Te kore te kerekere – The unseen void
Te kore te taumaua – The boundless void
Te Po-tipu – The night of growth
Te Po-rea – The night of development
Te Po-tahuri-mai – The night of extension.11
In 1849, Ngāi Tahu rangatira Matiaha Tiramorehu of Moeraki spoke of the atua (Māori deity) singing the world into existence. This was reminiscent of my earlier encounter reading about the Aboriginal Australian songlines.
Kei a te Pō te tīmatanga o te waiatatanga mai a te Atua.
Na Te Pō, Ko te Ao, na te Ao, ko te Ao mārama,
Ko te Ao marama, ko te Ao tūroa.
It was in the night, that the Gods sang the world into existence.
From the world of light, into the long-standing day.12 13
Oriori are not only used in the birthing arena but also to settle pēpi post birth. The following is a segment of an oriori that was dictated to historian Herries Beattie by Teone Taare Tikao, my great grandfather, on 18 November 1920.
E tama, hoki koe nahaku e whakaputa nei koi i tērā o te waru
Oh son, return thou to me bringing forth this vitality in the sun for eight months
Kai te putanga i tua, kai te putanga i whea, kai te Huareare i puta mai ra koe, e tama.
Appearing on this side, appearing where it is Te Huareare (the name of the Moon's mother) brought forth by you, oh son, brought forth in the time
Ia Te Moretu, Ia Te Moremau, Ia Te Moretaketake
of Te Moretu (tree planting), of Te Moremau (to ensure the roots are embedded in the earth) and Te Moretaketake (the tree is firmly planted).
This oriori acknowledged the gestation period and growth of the pēpi over the nine months whilst in utero. There is a warning or guidance in this oriori to ensure the child is fully prepared for his/her form and to grow strong. It applies a tree metaphor in reference to life and growth.14
One of my doctorate recommendations was to create an oriori resource for Māori midwives working in the Ngāi Tahu takiwā (tribal boundary), as an offering to the whānau Māori they were working alongside. An album of 18 oriori were recorded by Ngāi Tahu composers and embedded on a website called Hākui (the Ngāi Tahu term for mother) www.hakui.nz. Two of the oriori were specifically dedicated to whānau who had lost a pēpi, more oriori will be added to this collection throughout the year.15
Educator and Te Reo Māori teacher Lynne Te Aika, composed an oriori for her moko that featured on Hākui titled, Nau Mai Tāku Mere Pounamu. It was written to welcome a precious child from the womb to the world of light. The aspiration is the child's wairua would ascend to the heavens to be greeted by their tīpuna and be cloaked in whakapapa. Here is a shortened version of this waiata oriori:
Nau mai rā taku mere pounamu
Ki te ao mārama e
Piki mai, kake mai rā,
kia topa tōu wairua
Ki kā raki tūhāhā
Kei reira tūtaki ai ōu tīpuna e kia kakahuria koe e
tō korowai whakapapa rakatira e
Kia ako kā mātauraka
Tuku iho
I kā whakatipuraka maha
o Kāi Tahu e
Welcome
my precious pounamu
into the world of light
Let your wairua climb, soar
and ascend to the heavens
where you will meet your ancestors who will adorn you with
a korowai of your noble whakapapa
So, you can learn all of the knowledge that has been passed down by the multiple
Kāi Tahu generations
Alongside oriori, the Hākui website features information about customary birthing practices, a directory of local Māori midwives and artisans in Te Waipounamu who create art that supports childbirth and a section for Māori Midwifery students. It is an evolving website that in its short lifespan has been an invaluable, free and engaging resource for Māori midwives and whānau Māori in Te Waipounamu and further afield.
As health practitioners working in the childbirth arena, it is essential that we have an awareness that customary Māori birthing practices are currently being rejuvenated around the country. Investing time to find out more about these customary Māori birthing practices will enhance your ability to build rapport and work collaboratively with your whānau Māori who intend to incorporate customary Māori birthing practices in their births. In Ōtautahi, we liaise with researchers, our kaumātua, our Māori midwives, our Ngāi Tahu artists including musicians and composers, our kaimahi hauora Māori (Māori health practitioners), our whānau and our local hapū to assist the liberation of Ngāi Tahu birthing practices. The intergenerational inclusion alongside a wide reach of practitioners will sustain the restoration of Ngāi Tahu birthing knowledge in modern settings.
There is a groundswell of interest amongst whānau Māori and an eagerness to incorporate mātauranga tīpuna (ancestral knowledge) in their birthing journey. What makes rejuvenation a reality is that access to natural resources to create birthing tools is still accessible and often free. Reedy's research, memories of my tāua (grandmother), the skill of the Aboriginal Australian's Songlines and further exploration of customary Ngāi Tahu birthing practices have led to the facilitation of a further seven wānaka (workshops) for whānau Māori and Māori midwives to teach and share knowledge about oriori, taoka puoro (traditional Māori instruments) and whītau muka (flax fibre cords). I am still at the very beginning of this particular kaupapa (area of knowledge) yet I am reassured by the words of Reedy who said, "it's not how far back you go in your culture – it is how far forward you take it."
Photos taken at a recent wānaka oriori in Ōtautahi (photo credit: Mihiata Albury Photography)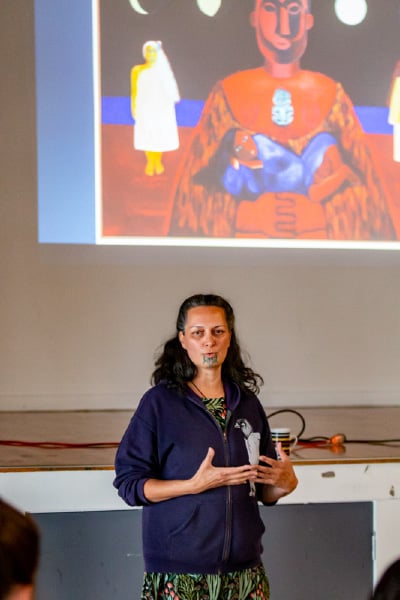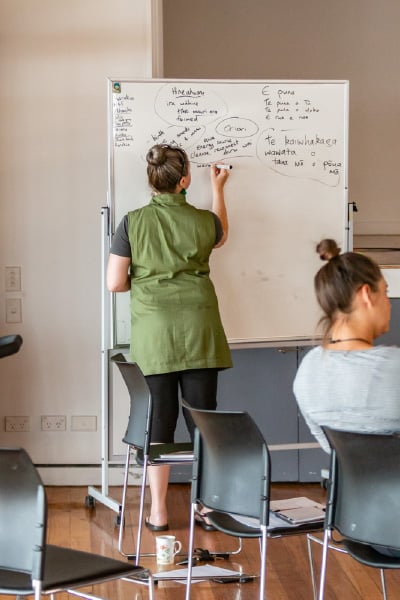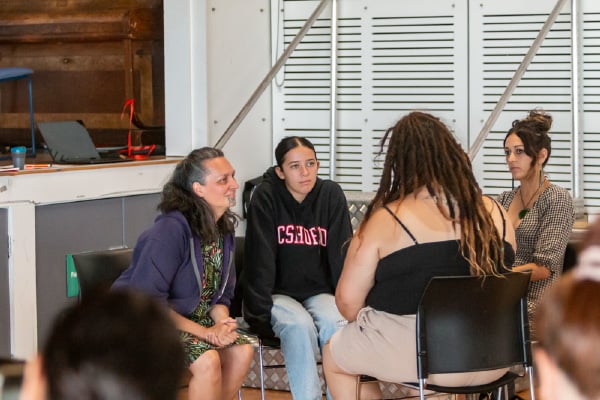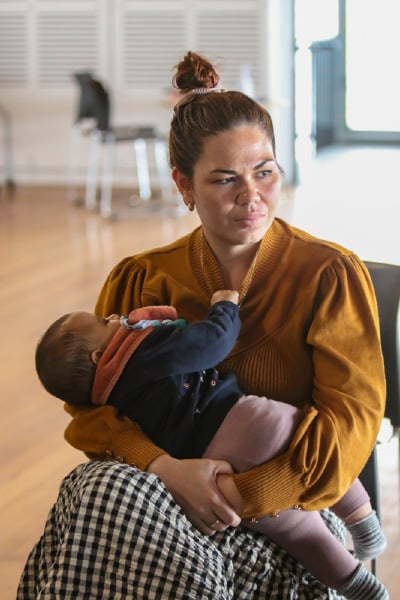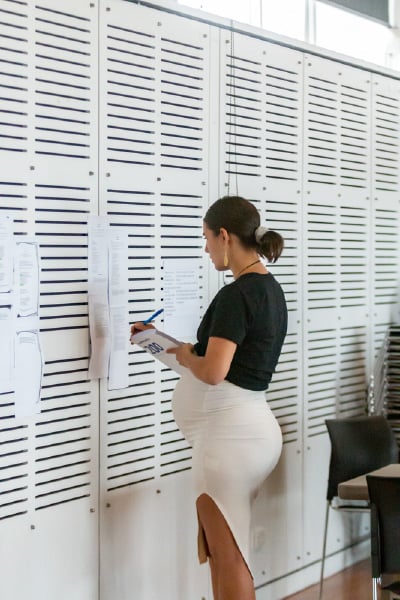 Further reading
Reedy, A. Māori Oriori or Lullabies Part 1 and 2. September, 4th. Waka Huia, TVNZ. 2011.
Tikao TT, Beattie H. Tikao talks: Ka taoka tapu o te ao kohatu : Treasures from the ancient world of the maori. Penguin. 1990.
Tiramorehu M. Te Waiatatanga Mai o te Atua – South Island Traditions. Canterbury, New Zealand: University of Canterbury. 1987.
Tonkinson, R. The Mardudjara Aborigines—Living the Dream in Australia's Desert. Austin, TX: Holt, Rinehart and Winston, 1978. Print.
Our feature articles represent the views of our authors and do not necessarily represent the views of the Royal Australian and New Zealand College of Obstetricians and Gynaecologists (RANZCOG), who publish O&G Magazine. While we make every effort to ensure that the information we share is accurate, we welcome any comments, suggestions or correction of errors in our comments section below, or by emailing the editor at [email protected]. Those pictured have provided consent for their name and image to be included.
References
---