Feature
The Birthing Tree
---
The cover image for our People of the Land issue is The Birthing Tree (2017) by Dr Deanne Gilson.
Dr Gilson is a proud Wadawurrung woman, mother, grandmother and emerging Elder from Ballarat in Victoria. Dr Gilson's art practice is made up of a multidisciplinary approach, drawing on ochre sourced from her Wadawurrung Dja (Country), ancestral history, oral storytelling and incorporating traditional marks alongside new contemporary symbols.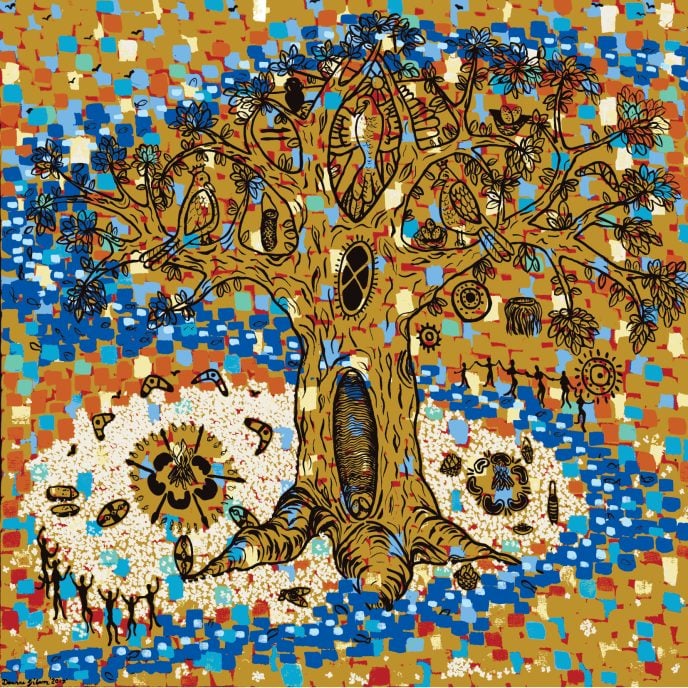 Dr Gilson loves painting the many Indigenous plants of the Australian bush and using her art to visually capture lost cultural knowledge for the future generations to come. This knowledge is often intangible and not visible to the eye as it incorporates the notion of spirit and deep listening that in turn creates a space for healing and overcoming trauma. Drawing on her Creation Story and tree knowledge, she creates an ongoing series titled The Wadawurrung Cultural Trees of Knowledge, incorporating different trees in each painting, and including ancestral knowledge coupled with ways of being and doing through lived experience.
Furthermore, Dr Gilson mixes the beauty of Country with truth telling, exposing the objectification and negative narratives placed on Aboriginal people through the post-colonial male and female gaze. Her art takes the appropriated ceramic kitsch objects of the 1900s, turning them back and opening up the space for revealing the truth behind the artefact and object.
For more on Dr Gilson's practice, visit her website, www.deannegilson.com.
The original of Dr Gilson's painting hangs in Djeembana (the College's head office) on unceded Boonwurrung land in Naarm (Melbourne). RANZCOG celebrates the history and contemporary creativity of the world's oldest living culture. We encourage members to reflect upon this powerful artwork in person next time you are at Djeembana.
---