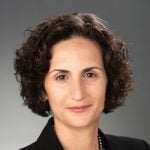 CONTRIBUTOR
Prof Maria Makrides
PhD, FNSA, FAHMS
---
Prof Maria Makrides is the Theme Leader for the South Australian Health and Medical Research Institute (SAHMRI) Women and Kid's, which is based at the Women's and Children's Hospital in North Adelaide. Maria is a National Health and Medical Research Council (NHMRC) Principal Research Fellow and also Professor of Human Nutrition, University of Adelaide.
Maria leads a multi-disciplinary research group of over 30 staff who are highly skilled in conducting and translating nutrition intervention trials involving mothers and babies.
As a research dietitian, Maria is committed to improving the nutrition and health of mothers and their babies through the conduct and translation of high quality research. She is particularly recognised for work investigating the health effects of dietary fatty acids, iron and novel dietary ingredients in the perinatal period. Maria is also part of the team that undertook the systematic reviews to underpin the Australian Dietary Guidelines for pregnant and lactating women released by the NHMRC in 2013. She is a member of the Infant and Young Child Scientific Advisory Group, Food Standards Australia and New Zealand.
ARTICLES AND LETTERS BY THIS CONTRIBUTOR
---